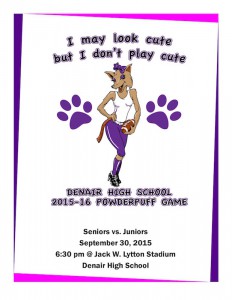 Submitted by Denair High School Sports Boosters
It's that time of year where the girls kick the boys off the field and invade Jack W. Lytton Stadium, at Denair High School, for the Annual Powder Puff Game. This year's game will be played Wednesday, September 30th, 2015 @ 6:30 pm. The 2015 Powder Puff Game between the Junior and Senior girls will be an exciting display of athleticism and competiveness. The game is always a fun time for all, including the fans in the stands cheering, the players on the field giving their all, and the all-boy cheerleading squads showing their support and their moves during half time.
The game is a fundraising event between the Denair Sports Boosters and Denair High School Wrestling. The gate opens at 5:30 pm and start time is 6:30 pm. The cost to attend the game is $7 for adults and $3 for students. There will be food available to purchase at the game.
Both teams have done an excellent job preparing for the game and both squads look like they are ready to play.   The scrimmages between the two squads have been very competitive and we could see a high scoring game.
Last year Juniors this year's Seniors will be looking to get their chance at a victory that escaped them last year. Senior QB Cheyenne Rutherford, and Senior RB Destiny Silva, will again lead this Senior group that only lost by 2 points last year as Juniors. This year's Seniors will have an experience line-up that hopes to continue the streak of Senior victories that have been dominate for the last 5 years.
First time players Junior QB Kelsey Park and Junior RB Eva Varni will try to break the streak of Senior victories. Both ladies have shown a lot of athleticism in practice, along with their Junior teammates, and could be the group that give the Juniors a victory to end the Senior dominance.
There are some great coaches volunteering their time to help them. Denair Head Wrestling Coach Don Helnore is coaching the Seniors along with Denair Assistant Wrestling Coach Matt Saldana and Denair Assistant Football Coach Andy Rutherford. The Juniors have Former Denair Assistant Football Coach Russell Steeley returning to coach along with Denair Assistant Football Coach Rick Snyder and Denair JV Head Football Coach and Denair Assistant Wrestling Coach Joe Prock.
It shaping up to be an exciting game that will determine who will have bragging rights for the rest of the school year.