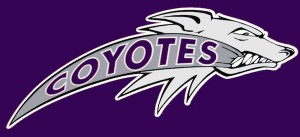 Submitted by Denair Unified School District
The meat grinder that is the Denair High football schedule finally ends this week. In the space of a month, the Coyotes will have faced the four powerhouses of the Southern League – Mariposa, Gustine, Orestimba and, this week, Ripon Christian.
Combined, those schools have an overall record of 23-4. Gustine and Orestimba are tied for first place with perfect 7-0 marks. Third-place Mariposa lost only to Orestimba. Ripon Christian's league losses are to Gustine and Orestimba.
The Southern League is stacked this year.
"Coming in to the season, we understood where we're at and where we want to go," said first-year Denair coach Anthony Armas, whose team suffered a 42-6 homecoming loss Friday to Orestimba at Jack Lytton Stadium. "We're putting in new offense and new defense. We're trying to change the culture.
"I do see improvement. We're improving at practice. … We're dealing with numbers, dealing with injuries. We're trying to establish and program."
Denair (2-5, 1-3) hung with Orestimba for the first quarter Friday. The Coyotes moved the ball well on their opening drive before stalling, but then gave up a touchdown on the Warriors' first offensive play.
They didn't get down, though. Denair marched down the field to score its only touchdown, cutting the lead to 7-6.
But after that, Orestimba's size, speed and depth made the difference. The Warriors did all their scoring before the first half ended. The final two quarters were played with a running clock. "They called off the dogs," Armas said.
On the road against Ripon Christian this week, Armas said he and his coaches will continue to emphasize the same fundamentals they have since practice began in August.
"We're going to try to run the ball, try to control the clock. Play some defense. It's kind of establishing this is what we do," he said. "We're trying to learn how to win."
After this week, the Southern League gauntlet gets easier. Denair's final two games against Le Grand and Waterford, which combined have won just three games this season.