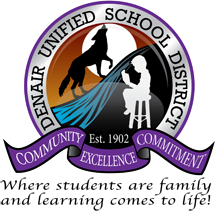 Submitted by Denair Unified School District
Let your voice be heard! Oppose the petition submitted by Ron B. Katakis, a local developer, to transfer land from Denair Unified School District to the Turlock Unified School District. The redrawing of the district boundary would divert future students and school funding away from Denair schools to Turlock Unified.
The Stanislaus County Committee on School District Organization will hold two public meetings.
Date:              Wednesday, October 28, 2015
Time:              5:00 p.m.
Location:       Turlock Unified School District
Professional Development Center
Located on e-Cademy campus, corner of Minarete and Marshall, next to Turlock Public Library

Time:              6:00 p.m.
Location:       Denair Unified School District
Coyote Center (Gym)
Denair Middle School ~ Lester Road
Supporting documents: