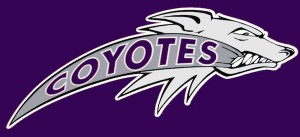 Submitted by Denair Unified School District
Teachable moments. Learning from mistakes and finding a way to better execute complicated football concepts.
That's been the consistent message from first-year coach Anthony Armas and his staff to a young Denair High football team. And though the Coyotes' record in the top-loaded Southern League may not show it, there have been signs of improvement even during a five-game losing streak.
Friday's 46-40 loss to Le Grand was the latest example.
Denair used a powerful ground attack to build a 28-20 halftime lead at Jack Lytton Stadium. After the teams traded scores in the third quarter, the Coyotes still clung to a 40-39 midway through the final period.
But a fumble near midfield proved to be Denair's undoing. Le Grand marched to what proved to be the winning score with about two minutes left on the clock. The Coyotes got the ball back one final time, but couldn't make enough plays to drive for the go-ahead points.
"The kids were pretty devastated," said Armas. "The game went back and forth. We couldn't stop them and they couldn't stop us. We just turned it over too many times."
In addition to the final fumble, Denair also suffered an interception. It was the only pass the Coyotes (2-7, 1-5) threw all night.
Justin Steeley, Juan Barrera and Chase Pritt took turns running for yardage much of the game behind some nice blocks by their offensive linemen.
Barrera later left the game after reinjuring his knee. "Juan's pretty banged up," Armas admitted.
After getting roughed up by the Southern League's powerhouses – Gustine, Orestimba, Ripon Christian and Mariposa – Denair found an equal in Le Grand (2-7, 2-4).
"We're getting healthier along the offensive line," Armas said. "That helps."
The season – which began in the heat of August – will conclude on a crisp fall night with Friday's game at Waterford (2-7, 0-6). It will be a final opportunity to turn the hard work and sweat and bruises into a much-needed victory.
"We're just focused on trying to get better at what we're doing," Armas said. "That's what we tell the kids each day in practice."