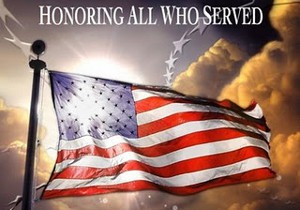 Submitted by Denair Unified School District
Trick or treating was over on Halloween Night when Derek Starkey sat down with his great-grandfather, Don Bothun, to talk about what it was like to be part of an Army tank company in the early 1950s.
It was more than a spur-of-the-moment conversation. Like his 72 classmates at Denair Middle School, Derek had an assignment: Interview a U.S. military veteran and file a report with English teacher Colleen Vickery.
"He wanted to know if it was a big adventure," said Bothun, who spent two years in Germany during the Korean War.
"I found out it was a lot different then than it is now," said Derek.
The calendar shows Veterans Day as Nov. 11 – the 11th day of the 11th month, formally acknowledging the time that World War I ended. But the middle school students chose to honor local veterans Monday, knowing classes won't be held on the federal holiday.
Bothun was one of about a dozen in attendance during a patriotic half-hour ceremony at the Coyote Center. A color guard and drum team from Stanislaus Military Academy performed. The national anthem was played. Students read poems paying tribute to servicemen and women. Songs representing each of the branches of the military were shared.
Photos and quotes from more than 40 local veterans interviewed by the students were taped to the wall. The veterans represented served from World War II to the present day.
One picture was of Bothun sitting in the shade beneath his tank. Another showed young Marine John Richardson holding his rifle across his chest. He, too, was present Monday, the guest of his daughter, eighth-grader Tati Abebe.
Richardson served in Iraq at the end of Desert Storm in the early 1990s and later in Somalia in northeastern Africa. He said it's important for young people to understand values like bravery, honor and sacrifice as well as the United States' role in the world.
"I hope it puts a little seed inside of them, whether they decide to serve or not," said Richardson, who is an electrician in Denair.
From their comments and applause, it was clear the students had gotten the message.
"A single day of the year is not enough to express our pride and gratitude," said eighth-grade class president Jorge Yanez.
Vickery said she has been using this assignment for more than a decade. Students have a month to interview a veteran, gather a photo and quote, write a three-or four-page report and share it with the rest of their classmates.
"It's been a real learning experience," she said. "The kids walk away with a better understanding of military life and the sacrifices our soldiers make. It's not a video game."
For students who don't have a relative, neighbor or family friend who is a veteran, Vickery has a few trusted Denair residents she invites into her class for a group interview. One of those men is Elwood Escobar, an Army veteran who recently spent about 45 minutes with Vickery's students.
Escobar was stationed in Berlin, Germany, in the 1950s, just after the end of the Korean War. He said the German people were wonderful, but it was an odd feeling to be a place encircled by enemy troops. This was before Germany was divided into the pro-U.S. west and the Soviet-backed east.
"We were like General Custer," he said. "We were completely surrounded. There was no retreating. We were outnumbered 10-to-1."
Escobar played the bugle in the Army. He played "Reveille" to wake his buddies up in the morning and "Taps" at night before lights went out, among other traditional military songs. Though he told the eighth-graders that he enjoyed his time in the service, he said one asked about his saddest time as a soldier.
"I said Christmas, when you're 9,000 miles away and you can't call home. That was sad," Escobar said.