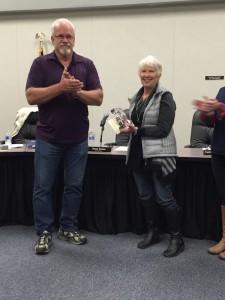 Submitted by Denair Unified School District
There isn't much that Carolyn Brown hasn't experienced in 28 years on the Denair Unified School District school board.
Academic achievement, the passage of two bonds to build beautiful new facilities and the restoration of community pride. Controversies over the American flag, near bankruptcy and two attempts to redraw the district's boundaries. Six superintendents, two interim superintendents and at least 22 other board members.
Through it all, the one constant has been Brown, who began her tenure on Denair board as the mother of two elementary-age daughters in 1987 and leaves as the grandmother of five. Thursday night was her final meeting after deciding not to seek an eighth four-year term.
Her colleagues presented her with a clock, marveled at her institutional memory and praised her as a calming voice of reason even during the most turbulent times.
"It's your caring, first of all," said Superintendent Aaron Rosander, addressing Brown. "You truly care. You're poised, even under intense conditions. You are a very sensible person and weigh things out. I really admire that. … Thanks for putting an indelible mark on many, many kids through the years."
Trustee Robert Hodges – who is 29 years old – joked that Brown, 69, has served nearly as long as he's been alive. He also appreciated her quiet wisdom.
"It's been great for me, as the youngest board member, to always have a shoulder to lean on. 'How does this work? What happened in the past?'" said Hodges. "I can't count how many times she's tried to tell me something and I didn't agree. Two days later, I'd have to text her and say, 'You were right.' "
Brown's public service is something of a family legacy. Her great-grandfather was a school board member in Nebraska, and her grandfather and father both served on the school board in Hilmar, where she grew up.
Brown said when her daughters were younger, she began to get involved in the elementary school site council. That interaction with teachers and staff as a parent inspired her to run for the board in 1987.
"At that time, we were considered a 'low-wealth' district and our superintendent was OK with that, but I thought we could be more. I wanted to see changes," she said.
When Brown was first elected, the district's footprint on Lester Road was much smaller. The elementary and middle schools shared a campus that today is home to the Denair Elementary Charter Academy and the district office. The high school was the only thing on the west side of Lester, though it used the elementary gymnasium.
Two successful bond measures led to growth. New classrooms, a gym and event center, drama area, cafeteria and library were added to the high school. A few years later, new middle school campus and fitness centers were built.
Retaining enough students to fill all the seats in those classrooms has been a challenge for Brown and the administration. After peaking at more than 1,400 students in the 2007-08 school year, the district has had a steady bleed of students, especially at Denair High. Brown called the attrition a "vicious cycle," one that finally is showing signs of easing, particularly at the elementary school.
"We can't become what parents want us to be when they're taking their kids out of the district," Brown said. "Overall, we're better in a lot of ways, but we still have that challenge of not enough students. … What would we be like without interdistrict agreements? I think we'd be even better."
The district has endured some frustrating moments during Brown's tenure. In 2010, national media attention was generated when a middle school student was told not to fly an American flag on his bicycle for fears he would be bullied. Former Superintendent later apologized to the community.
Two years later, the district made headlines again when it was threatened with state takeover because it was spending more than it brought in, mostly because of declining enrollment. Contentious negotiations with employee unions led to layoffs and pay cuts that still are in effect.
"I wasn't going to run four years ago, but at that time, I felt like I needed to because we had a lot of turnover and there needed to be stability," Brown said. "When we went through the financial problems, as awful and horrible as that was, I was glad I was there for that. … We had some difficult times, but it's like family — you stick together. If you keep focusing on the kids, it makes it easier to figure out what to do."
Brown is a familiar figure on all of Denair's campuses. She frequently attends school events and visits classrooms, and said she wants to stay involved, if only in a different role. She retired last year from her job teaching teens to drive and said she intends to spend more time with her husband, Jim, daughters and grandchildren. "Just enjoy life," is how she summed it up.
"Carolyn is a model for what a school board member should be," praised Michelle Bush, the district's senior director of student support services. "She's our institutional historian and has been a voice of reason."