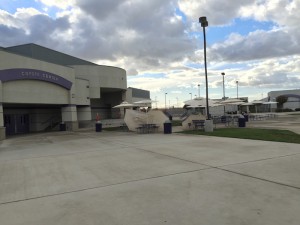 Submitted by Denair Unified School District
A tornado touched down in Denair on Sunday, November 15, 2015, about 2:00 pm, damaging some buildings and cutting power to the town. No injuries have been reported.  Electrical power was restored sometime after 4:00 pm, and emergency services are controlling traffic through affected areas.
Aaron Rosander, Superintendent of Denair Unified School District, reported that all DUSD schools will be open Monday morning, ready to receive students, as usual. Minor damage was reported to some outdoor furniture at Denair Middle School.