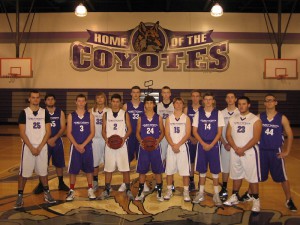 Submitted by Denair Unified School District
Five games in five nights. Thirteen games in 19 days. The three-month basketball season may be a mini-marathon, but December promises to be a sprint for the Denair High boys team. It won't take long for the Coyotes to identify their strengths and weaknesses.
"My whole thing in December is to define roles. That's where we're at," said fourth-year coach R.J. Henderson. "Everything we do in the first month is to gauge where we are come January and February."
Henderson begins the season with more depth than he's ever had. Fourteen players will suit up for the home opener against Stone Ridge Christian – five more than he had on the varsity roster at the end of last season. He is hopeful that will allow the Coyotes to be more aggressive offensively and defensively, and compete for one of the Southern League's three playoff berths. Denair was 8-18 overall and 4-8 in league play last year.
"We're going to be more up-tempo, especially when we get to league," Henderson said. "Talent-wise, we have the players to do that. We want to push the ball up the floor and do the things we haven't been able to do in the past."
Much of the optimism surrounding this year's team revolves around senior point guard and captain Isaac Starks. This will be his third season with the varsity. Last year, he averaged 12 points and 4.3 assists per game, and was named to second-team all-league. Henderson has higher expectations this season.
"He's got the ability to create his own shot off the dribble. He's one of the two of three best guys in our league at that," the coach said. "He's got great range for a high school kid. He's by far the best shooter I've had in my four years here."
Starks made 40% of his three-pointers in limited action as a sophomore and 35% as a starter last season. Henderson said it will be rare when Starks comes out of a game this year.
"He's going to take more of a leadership role this year – on the court and off the court," Henderson said.
Starks is one of just three seniors on a relatively inexperienced roster. Henderson is counting on one of those youngsters – 6-foot-5 sophomore center Dylan Mann – to continue to build upon the promise he showed as a freshman playing on the varsity last season.
"We're going to need him to score more, play heavy minutes and stay out of foul trouble," Henderson said. "He gives us the ability to do a lot of things, especially with pressure on the defensive end."
Other young players expected to have an impact this season are junior forwards R.J. Henderson (son of the coach) and Joe Brasil, junior guard Brendan Curnow and sophomore guard Chase Pritt.
The early season schedule includes three tournaments – Riverbank, the Denair Holiday Classic and in Turlock, where the Coyotes will face the host team in the first round in a big small/small school matchup of two clubs who rarely play.
"It's a good thing for our guys to see a big gym, to see how they compete against a much larger school. I think it will help us," Henderson said.
Denair's own tournament is Dec. 17-19. On the first night against Turlock Christian, Henderson has issued a challenge to the Coyotes' fans. He wants to beat the highest attendance for any home game last season, which was 325.
2015-16 Denair Coyotes Boys Basketball Schedule
Date            Opponent                        Place            Time
Dec. 1         Stone Ridge Christian   Home            7 p.m.
Dec. 2         Turlock Christian              Calvary Baptist 7 p.m.
Dec. 3-5      Riverbank Tournament    Riverbank      TBA
Dec. 8          Hilmar                              Away             7 p.m.
Dec. 10-12  Godinez Tournament       Turlock          TBA
Dec. 15        Hughson                          Away            7 p.m.
Dec. 17-19  Denair Holiday Classic  Home           TBA
Dec. 29        Dos Palos                       Home           7 p.m.
Jan. 5*         Waterford                       Home           7 p.m.
Jan. 8*         Mariposa                         Away             7 p.m.
Jan. 12*       Le Grand                        Home           7 p.m.
Jan. 15*       Delhi                               Home           7 p.m.
Jan. 22*      Gustine                           Home            7 p.m.
Jan. 26*       Orestimba                       Away             7 p.m.
Jan. 29*       Waterford                        Away             7 p.m.
Feb. 2*        Mariposa                        Home            7 p.m.
Feb. 3*         Le Grand                        Away              7 p.m.
Feb. 12*      Gustine                            Away             7 p.m.
Feb. 16       Orestimba                      Home            7 p.m.
 *Denotes Southern League match