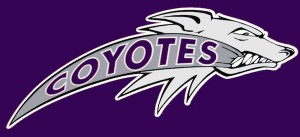 Submitted by Denair Unified School District
Don Helnore was encouraged by the success of last year's Denair High wrestling team, which finished third in the rugged Southern League. And though the Coyotes lost five seniors, the veteran coach is optimistic that his 16-man group can live up to similar expectations this time around.
Three wrestlers who qualified for the Division V Tournament return – senior Jordan Cervantes (132 pounds), junior Kyle Prock (138) and senior Kyle Perkins (220).
"For me, I want each guy as a returnee to improve and do better for himself and the team," said Helnore, who has run the program for nine years. "For the new kids, I want them to find a love for the sport."
In addition to Cervantes, Prock and Perkins, Helnore is high on 145-pound sophomore Blake Davis. "He's already making big leaps from last year, when he really pushed some guys."
The early part of the season features some regional tournaments and a handful of dual meets. For now, Helnore said the focus is on "conditioning and technique work."
"We have a basic plan for all our guys. As you see them wrestle and move, you find out what they're good at and build on that," he said. "But like in any sport, you have a basic foundation that you teach.
"Right now, we're working on stances, hand position, head position. What am I trying to do? Motion and movement. Once we get into league season, there's more wrestling."
2015-16 Denair Coyotes Wrestling Schedule
Date            Opponent                        Place            Time
Dec. 1          Oakdale Tournament       Oakdale         4 p.m.
Dec. 9         Hughson                          Home            6:30 p.m.
Dec. 10        Mountain House              Away              6:30 p.m.
Dec. 16       Hilmar                              Home             6:30 p.m.
Dec. 17        Ripon                               Away              6:30 p.m.
Dec. 23        MJC Invitational              Modesto          9 a.m.
Jan. 2          Turlock Bulldog Classic   Turlock            9 a.m.
Jan. 6          Big Valley Christian          Away               6:30 p.m.
Jan. 8-9       Lloyd Engel Tourney        Escalon           9 a.m.
Jan. 13*       Waterford                         Away               6:30 p.m.
Jan. 20*      Mariposa                         Home              6:30 p.m.
Jan. 23        Hatler Invitational             Sonora             9 a.m.
Jan. 27*      Delhi                                Home               6:30 p.m.
Jan. 30        Rumble in the Jungle      Turlock              9 a.m.
Feb. 3*         Orestimba                       Away                 6:30 p.m.
Feb. 6          Division VI Team Duals    Stockton          TBA
Feb. 13*      Southern League Tourney  Home         10 a.m.
Feb. 19-20   Division V Tournament    Escalon            TBA
Feb. 26-27   Masters Tournament       Stockton          TBA
March 4-5    State Tournament           Bakersfield       TBA
*Denotes Southern League match