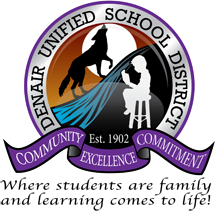 Submitted by Denair Unified School District
Denair school officials encourage students, staff and community members to unite again to convince county officials to leave boundary lines in place and reject a Turlock housing developer's attempt change them.
The Stanislaus County Committee on School District Reorganization is expected to announce its decision on Wed., Feb. 17 during a meeting in Denair. The gathering will be held at 6 p.m. at the Coyote Center of the campus of Denair Middle School.
At stake is more than $1 million in onetime development fees, plus hundreds of thousands of dollars per year in state funding based on student attendance.
Last fall, developer Ron Katakis asked that 91 acres at the northwest corner of Tuolumne and Waring roads be moved from the Denair Unified School District into the Turlock Unified School District. The property is about a half-mile from the Denair schools complex on Lester Road, but more than two miles away from the nearest Turlock schools.
The land has always been within the Denair district, but Katakis petitioned the Stanislaus County Office of Education redraw the boundary. He claims homeowners will likely identify with Turlock because the new neighborhood will be within the city limits, which have expanded to the east toward Denair over many decades. For that same reason, boundaries between cities and schools throughout the county and the rest of the state often are very different.
The situation pits Denair Unified, its 1,300 students and $9 million annual budget against Turlock Unified and its 14,000 students and $136 million budget.
"Small schools matter. Rural schools count. This is truly about small schools that make a positive, powerful and long-lasting impact on children," Denair Superintendent Aaron Rosander told the 10-member committee last fall.
Hundreds of Denair schools supporters turned out in October at two public hearings lasting more than 2½ hours. Multiple people spoke in front of the committee and three parents presented two petitions with more than 600 signatures from Denair residents opposed to the boundary change.
Rosander said that Denair and Turlock districts routinely approve transfer agreements that allow students to attend different schools. This school year, more than 400 of Denair's students live in Turlock and another 100 have addresses outside the Denair Zip code.
At the October hearings, Turlock officials estimated they serve about 300 Denair students at all grade levels. Turlock Superintendent Dana Trevethan acknowledged that many Turlock campuses already are at capacity and that the boundary change might require the passage of construction bonds to build new facilities.
The initial boundary petition specified 169 potential homes, but a spokesman for Katakis said last fall that there are plans to build another 100. Denair's financial assumptions were based on the smaller number.
Developer fees – which are paid before construction begins — would amount to an estimated $1.4 million based on an estimated average of 3,000 square feet per new home in the first phase of Katakis' development. The fee is $3.36 per square foot.
Developer fees help school districts offset the cost of new facilities, adding on to existing buildings or paying off construction loans.
Also at risk is the roughly $8,000 per student that the state funds each school district and helps pay staff salaries. Rosander said conservative estimates show that 90 to 100 students could be expected to live in the first phase of new homes, generating $750,000 or more in so-called "average daily attendance" each school year.
Many speakers referred to the impact of that money in the first year. For Denair, $2 million represents about 22% of its annual budget. For Turlock, the same amount of about 1.5% of its budget.