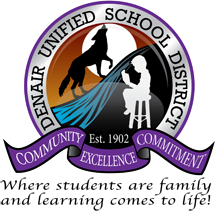 Submitted by Denair Unified School District
Students at Denair High School could have stiffer graduation requirements, a revamped agricultural sciences curriculum and additional access to Advanced Placement classes in the next school year.
Principal Alecia Myers unveiled her ideas Thursday night at the meeting of the Denair Unified School District board. She came to Denair in July from the Milpitas Unified School District in Santa Clara County. She told the board that she has spent considerable time evaluating the high school curriculum, talking with staff and students, and analyzing various improvement options.
A key part of her proposal toughens math and foreign language requirements before students can graduate. Trustees signaled their support Thursday, but took no action. Public comment will be accepted at the March meeting, where the board could adopt new graduation standards.
Today, Denair students must take two years of math before graduation. The new requirements would add a third year for students in the class of 2018. Myers said the third year could be an AP class or a consumer algebra course focused on balancing a checkbook, understanding credit and applying for a loan.
"I thought it might send students over the edge," Myers said, "but they were like, 'Yeah, we need that.' "
Another reason to beef up the math requirements, she said, is because juniors take standardized state tests upon which school and district ratings are based. If students are not enrolled in math as a junior, those exams become more difficult.
Students in the class of 2020 also would have to take one year of a foreign language in addition to a year of fine arts. Today, Denair allows a year Spanish to meet the fine arts requirement. Separating those dovetails with CSU and UC entrance requirements, Myers explained.
First-year teachers Matthew Marshall and Madison Weigel strongly influenced the new pathways concept for agricultural sciences, which Myers and other district officials believe should be one of the high school's strengths and key selling points to current and incoming students.
Pathways refer to a four-year program that organizes and integrates instruction. In Denair's case, there will be three choices, or pathways, for ag students: science, mechanics and horticulture. Students can sign up for more than one, Myers said.
The science pathway includes an ag earth science class for freshmen, ag biology for sophomores, animal science for juniors and food science for seniors.
Students in the mechanics pathway take ag earth science and beginning mechanics as freshmen, advanced mechanics as sophomores, beginning welding as juniors and advanced welding as seniors.
The horticulture pathway ag earth science and horticulture for freshmen, beginning floral as sophomores, advanced floral for juniors and food science for seniors.
Myers said the pathways concept enables the school to apply for state grants under the Career Technical Education program. The money could be used to improve the high school's ag facilities — for welding, a better greenhouse and refrigeration area, and expanded space for animals.
Pathways also expand the opportunity to partner with Modesto Junior College and its respected ag program, the principal said.
Advanced Placement classes are another key component of Myers' plan. AP classes offer college-level work – and credit – for juniors and seniors who pass. Of the high school's 274 students, 62 are enrolled in at least one AP class.
Denair currently five AP classes taught by its own teachers – government, U.S. history, English literature, Spanish and biology — plus online access to calculus. Myers talked with students and staff before formulating the AP offerings for the 2016-17 school year: statistics, English lit (alternating every other year with English language; juniors take one, seniors the other), biology (alternating with anatomy and physiology) and Spanish.
Online access for selected courses would continue through a partnership with Brigham Young University.
An important difference for AP classes beginning next year is a contract to be signed by students, their parents and the teacher. It will lay out expectations for time devoted per week to class and homework, and recommends students take no more than two AP classes at once. Students will be strongly discouraged from dropping classes, something that Myers said has been an issue. For instance, 32 students signed up for AP biology this year, but only four are still enrolled. The same in Spanish, where 17 began and now there are nine.
Myers has plans for an informational meeting in early March for parents of incoming freshmen to talk about graduation requirements, ag and AP programs, and the other classes at Denair High. She said eighth-graders also will be allowed to shadow high school students this spring so they can sit in on classes and see first-hand how classes operate.