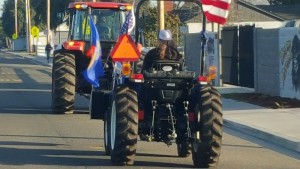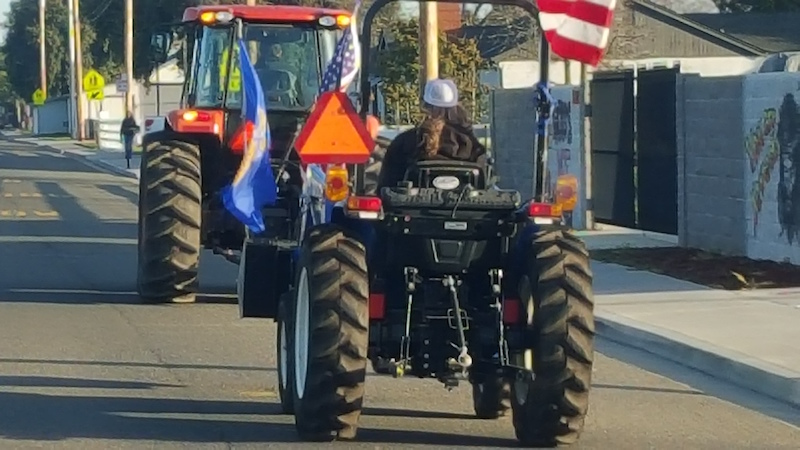 Submitted by Denair Unified School District
Some students ride the bus to school. Others walk or are dropped off by their parents. Denair High senior Tristan Haile and sophomore Bryson Prock did something completely different Monday – they came by tractor.
It was a fun way to kick off and draw attention to National FFA Week, which is being celebrated across the country by Future Farmers of America clubs like the one at Denair.
Bryson said he and his father borrowed the tractor idea from FFA organizations in the Midwest. They pitched it to school officials, who enthusiastically gave their blessing.
So Monday morning, Bryson climbed aboard his family's Kubota M8560 and navigated his way to Tristan's home, where she and her New Holland joined the two-tractor caravan to school. They parked the tractors near the ag shop on the high school campus.
"My dad and I had seen pictures of people doing this and thought it would be cool to do it here," Bryson explained.
There were other fun parts to Monday's first day of FFA Week. Most of the 120 Denair FFA members – and many of their classmates and teachers – wore camo clothing. At lunch time, there was "target practice" in which students tried to knock over plastic water bottles by throwing tennis balls.
The planned activities for the rest of the week look like this:
Tuesday: A hay-bucking contest. Everyone is encouraged to wear an "ag" hat.
Wednesday: A milk-drinking contest. The attire is blue and gold — the FFA colors.
Thursday: A wood-stacking event. Plaid is the outfit of choice to honor lumberjacks.
Friday: Kiss a pig day. Most of Denair High's teachers will have a jar in their classrooms. Students will deposit loose change. Whichever teacher collects the most has to kiss a pig.
"It's a fun way to advocate for ag and get the whole campus involved," said first-year teacher Madison Weigel.