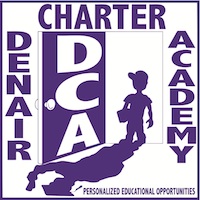 Submitted by Denair Unified School District
Dawn Allen is one proud principal these days. She and her staff at Denair Charter Academy recently received glowing reviews from a statewide accreditation agency for their unique approach to reaching and educating non-traditional students.
DCA prides itself on providing "personalized education opportunities" for its 326 students. It is an independent learning program for students at all grade levels that do not wish or are not able to attend a typical classroom setting. It combines academic rigor and high-quality instruction with the flexibility necessary to meet each student's unique educational needs.
Recently, two members of the Western Association of Schools and Colleges visited the DCA campus. WASC reviews schools and, if they meet state standards, grants accreditation every six years. This month's meeting with Allen and her staff was part of a planned, mid-cycle review.
The officials liked what they saw and heard, a fact that Allen was delighted to share with Denair Unified trustees.
"The teachers at DCA work very hard with their mind, but they also have a strong heart for their students and I could not have been more proud sitting in that meeting and hearing the questions that were being asked of the staff," Allen told board members.
The principal said on the day the WASC officials arrived, there were 15 new students in the office waiting to be enrolled. It wasn't something planned, she said, but was a powerful example of the reputation DCA has earned in the local education community.
"WASC is here to see what you got and sometimes they are a little challenging, but they wrote statement after statement on the relationship the teachers have with their students and their commitment to the school and our district," Allen said.
The accreditation officials commended DCA for:
Protecting the school's vision during a "tumultuous" time of staffing changes on campus and at the district level
Having a clear vision of DCA's mission articulated by the principal, superintendent and trustees
The "significant workload" borne by teachers in an effort to update curriculum
The high level of commitment of teachers toward students and their "positive relationships"
It's orientation process for new students
Aligning the evaluation process among teachers so students are consistently evaluated
The "friendly, safe and clean campus" maintained by DCA's classified staff
Among the handful of recommendations from WASC:
Involve all stakeholders in a self-study process
Develop consistent campus wide of assigning credits for completion of courses. Standardization of curriculum.
Emphasize on higher-order thinking skills so students can go beyond knowledge acquisition
Continue to provide training on Common Core standards for teachers. Use data to inform our instruction.
Allen said she appreciated the feedback. She also said her growing campus needs more classroom space, more counseling services and secretarial assistance. In addition, she envisions more contract teachers in math, English and social sciences who could would align curriculum to standards and create lesson plans while providing intervention students and coaching to teachers.
"The DCA student population is special—we love them," said Allen.