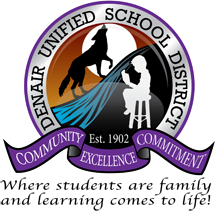 Submitted by Denair Unified School District
The short-term financial outlook for the Denair Unified School District remains positive, trustees were told Thursday night, but the continued erosion of enrollment at the middle school and high school remains a threat to long-term stability.
Linda Covello, the district's chief business officer, sketched a mixed picture during a budget update for board members, employees and others in the audience.
The good news, she said, is that the district has fully emerged from the financial crisis of 2013 that led to substantial salary cuts for all staff, some layoffs and temporary county fiscal oversight. DUSD is on track to finish its 2015-16 fiscal year with a general fund surplus of $1,333,239. And, thanks to an infusion of one-time money this year from the state, the district's projected ending general fund balance is $2,186,713.
"We are projecting positive cash flow through June 2017," Covello told trustees.
Clouds loom on the financial horizon, however. Covello projects enrollment at Denair High School and Denair Middle School to continue to decline – by approximately 4% in 2016-17 and 8% in 2017-18. And while growth at Denair Elementary Charter Academy and Denair Charter Academy is expected to partially offset the drop, Covello said there still is a net loss to the district. She expects DUSD to slip back into deficit spending each of the next two years unless the trend is reversed.
"This tells the story of DMS and DHS," said Trustee Ray Prock Jr. "We need to get that enrollment up."
"So, we need more kids," stated Trustee Kathi Dunham-Filson.
"Yes," replied Covello.
Average Daily Attendance – upon which the state's contribution to school districts is calculated – is down about 1%, or 13 students, for the entire district this school year as compared to 2014-15. But that masks a more ominous statistic: ADA at the high school and middle school went from 529 in 2014-15 to 502 this year.
"We need not to be lulled into a false sense of security by one-time funding," Superintendent Aaron Rosander warned.
The budget news comes at a time when the district and its teachers are negotiating a new contract. Linda Richardson, president of the Denair Unified Teachers Association, asked trustees Thursday night to aggressively move to restore the 8% salary reductions agreed to in 2013. She presented them with a chart showing DUSD above only tiny Knights Ferry for average teacher salaries in Stanislaus County.
"We have to be competitive," she said. "It's hard to be competitive when they can go a mile down the road and make $6,000 more a year. … At some point, there has to be some reciprocation. There were promises made that we would be made whole again."
In addition to any raises it grants, the district also faces steep state-mandated increases in its pension contributions to the State Teachers Retirement System (STRS) and Public Employees Retirement System (PERS) through the 2020-21 budget year.
Covello said she already has identified ways to use grant money and other funds to pay for qualifying programs as one way to stem the drain on the general fund, from which salaries are paid.
But the bottom line is enrollment growth, which Rosander remains confident will happen "as long as we stay focused on the excellence of our programs."
"Clearly, thanks go to all of our employees for the sacrifices they've made," he said. "I wasn't here then, but I've been here long enough now to be part of it. Every time it's responsible to restore salaries, we're going to do it. We don't always make progress as quickly as we want, but inch by inch we're getting there. Please be patient. … We will get there. That's our commitment.
"The money follows the excellence in the programs. As long as we stayed focused on the excellence of our programs, the money will come. … The mission is sustainability. When I leave here or others in the management team do, we want to pass on to the next generation of teachers and students a district that is sustainable, that is always on an upward trajectory. That's our promise."