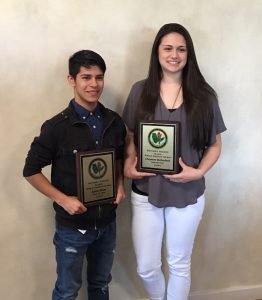 Submitted by Denair Unified School District
Two of Denair High School's top students were honored this week by the Southern League for their academic and athletic accomplishments.
Cheyenne Rutherford and Edwin Flores have excelled in the classroom and as four-year members of the Coyotes' sports teams and have been actively involved with various school clubs. Both are seniors who intend to enroll at California State University, Stanislaus this fall.
Rutherford has a grade-point average of 4.27, one of the highest in her class. She participated in volleyball four years and was on the track and basketball teams for three years. She also has been a Denair cheerleader for four years in addition to helping to coach the youth football cheerleading squad.
"Cheyenne is one of the busiest students I have known the past four years," said Darrin Allen, the high school's athletic director. "She has impressed me since her freshman year balancing all of her classes, athletics, FFA, cheer and coaching cheer while still maintaining over a 4.0 GPA.
"If an injury during volleyball would not have slowed her down this year, she would have been able to play basketball and participate in track.  That would have made her a three-sport athlete for all four years.  Cheyenne has a great future ahead of her and will be a success."
Flores has earned a 3.55 GPA while participating in soccer, football, wrestling and track. He was the honored as the Most Valuable Player of the Coyotes' soccer team last fall. He also has worked closely with Allen as the school's athletic commissioner for the past three years.
"Edwin has been a pleasure to coach, teach and have as an athletic commissioner," Allen said. "He has worked very hard the past four years to get where he is today.  He has taken his role as athletic commissioner very seriously and has been an asset to the athletic department.  He will be missed by many on campus next year.  I look forward to seeing what Edwin will accomplish in the coming years."
The Southern League recognized one boy and one girl from each of its eight member schools at a luncheon at Hilmar Cheese Company. on April 13. Rutherford and Flores were chosen by Denair teachers and coaches based on their academic and athletic achievements as well as community involvement.