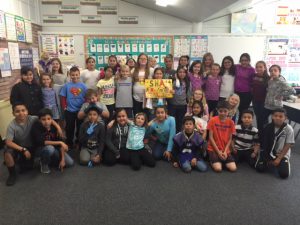 Submitted by Denair Unified School District
Spanish instructor Donna Williams has been one of the most popular, energetic and inspirational teachers on the Denair Elementary Charter Academy campus for many years. Her enthusiasm for her students – and her subject matter – bubbles through every lesson in each class.
So it should come as no surprise that when Williams returned from Christmas break this year with the idea to begin a Spanish-language service club, her students embraced it with the same excitement Williams brings to her work. That is to say, they loved it.
The Sociedad Hispanica de Amistad, known by the acronym "SHA," is national group affiliated with the American Association of the Teachers of Spanish and Portuguese. Williams attended a national conference for foreign language teachers in December. AATSP leaders were impressed to learn of DECA's commitment to teaching Spanish to every student and offered her a membership on the spot. She, in turn, was delighted to hear about SHA.
In Williams' mind, it was a perfect fit. DECA's chapter was formed in January and already has 50 members in third through fifth grades. It is called Los Manos de Esperanza ("Hands of Hope") and is the first in the Central Valley.
"I had wanted to start a service club using our Spanish as a mode to promote languages, as well as serve our community and school, and the SHA offered exactly what we were looking for," Williams explained.
Students attend weekly meetings during their lunch period, where they plan and participate in language-based activities. Already, the club hosted a Spanish teacher from nearby Stanislaus State University for a meet and greet. In March, they organized a clean-up project on the DECA campus, counting and singing in Spanish while moving from classroom to classroom for 25 minutes.
The club's next event is Friday, April 29, from 1-3 p.m. when it will participate in Dia del Niño ("Children's Day"). Though marked on different days in different Latin American countries, Dia del Niño's focus is the same everywhere. "It's a day to love, accept and celebrate children," said Williams. "To make them feel special."
SHA club members will team with Spanish students at Denair High School to organize booths and fun activities. The entire Denair community is invited to the grass area near the purple playground on the DECA campus.
The new club is just the latest example of DECA's commitment to infusing what it calls "world language" into all its core academic lessons. Each student has regular exposure to Spanish. And last year, DECA began offering a Spanish immersion program for kindergartners, who are taught in English and Spanish. It was so popular that two classes were created. Additional immersion classes will be added at each grade level every year as in the initial students get older.
Younger students just learning Spanish start with the basics — counting, names of days and months, names for colors, etc. As they get older, verb conjugations are introduced as well as useful phrases and idioms. Many are taught through songs, rhymes and student-produced skits. At a recent Denair Unified School District board meeting, 18 SHA members entertained the audience with a series of songs in Spanish.
"Singing in the target language allows students to actively participate and have fun with the language," Williams explained. "The rhythm and movements that go along with the songs help students to retain the new language they have learned."
All students receive regular assessments about their Spanish comprehension. Writing is introduced and students engage in "real-world scenarios," according to Williams. The computer labs allow youngsters to take "aerial tours" of foreign countries. "They learn to listen and speak in the target language as they move through the program," she said.
The foreign language component is one of DECA's most appealing selling points to parents. Williams is at the heart of the program. The SHA club is a natural extension of it all.
"The program is a wonderful way to combine our unique Spanish program and our goals of creating positive, inspirational, student leaders," said Sara Michelena, DECA's principal. "Mrs. Williams has been the one working tirelessly behind the scenes to create and run this group.  The student involvement and interest has been fabulous and is such a testament to the type of teacher Mrs. Williams is for her students."