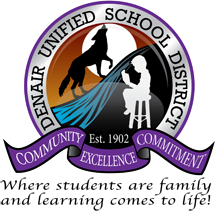 Submitted by Denair Unified School District
The Denair Unified School District will open its doors to parents and its community Thursday night with open houses at all its campuses as well as academic demonstrations and awards presentations. Here is the schedule for each school site:
6:00 p.m. – Classrooms will be open for all parents to meet and talk with teachers and observe various projects.
7:00 p.m. (at Coyote Center at Denair Middle School) – Annual awards presentation. More than 150 of the 270 students on campus will be honored. Honor roll awards based on grade-point average will be announced, students receiving scholarships will be recognized and those with perfect attendance will be celebrated.
5:30 p.m. – Teachers in all classrooms will welcome parents and others.
Denair Elementary Charter Academy
5:00 p.m. – Science Fair in the elementary gymnasium.
5:00-7:30 p.m. – Art show featuring student creations in the cafeteria.
6:30-7:30 p.m. – Open house in all classrooms.
6:00 p.m. – Classrooms 39 to 45 will be open with student displays and science experiments. Python Ron will be on hand with various reptiles for an interactive experience. A baby boutique also will be open with donated clothing for students who are parents.