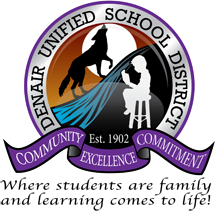 Submitted by Denair Unified School District
Businesses and organizations are dynamic places that experience seasons of change. Denair Unified School District is no exception. Below are some the confirmed key changes occurring across our District.
Denair High School
Administration: We have recently learned that Principal Alecia Myers will be leaving our District and will not return to DHS this year. We thank Ms. Myers for her service and wish her well.
Interim Principal Joe Galindo will continue to fill in at the high school, teaming up with our talented faculty and staff to ensure that the school year ends smoothly and successfully.
Principal interviews will be held Monday, May 9th.
Teachers: We are currently recruiting for three teacher positions at DHS in the areas of Science, English and Mathematics.
Leaving DHS at the end of this school year are Breanna Vaughn (science) and Carrie Coldicutt (English). We thank both individuals for their terrific service and wish them well in their future endeavors. The talented Cristina Rojas (mathematics) will transfer to Denair Charter Academy next year where she will work full time.
Sandra Cisneros will move from DECA to DHS to teach Spanish. Ms. Cisneros will fill the vacancy of Maria Olivas who next year will serve as DUSD's full-time Coordinator of English Language Development/English Learner Instructional Coach
Teacher recruitment and interviews are currently in progress.

Denair Middle School
Administration: Principal Travis Manley has recently accepted a job with Sylvan Union School District. Although Mr. Manley has greatly enjoyed his time with Denair schools, he has decided to take on a new challenge and opportunity. We thank Mr. Manley for his service and wish him well.
Principal interviews will be held Monday, May 9th.
 Teachers: We are currently recruiting for mathematics and science teachers to fill the vacancies of Christina Rojas and science-enthusiast Barry Cole, both of whom will teach at Denair Charter Academy next year. We are pleased to announce that Spanish teacher Jasmin Perez will teach full time at DMS.
Teacher recruitment and interviews are currently in progress.
Denair Elementary Charter Academy
As previously announced, Principal/Director Sara Michelena will be leaving DECA this June to spend more time with her family. We wish Sara and her family much happiness.
Principal/Director interviews will be held Monday, May 9th.
 Teachers: The innovative and dynamic Dual Language Immersion program is growing. We welcome Margarita Hurtado de Nava, Stephanie Hudson, Marisol Rivas and Bibiana Alonzo-Sandoval to DECA. Ms. Hurtado de Nava and Ms. Hudson will be teaching Dual Immersion Kindergarten and Ms. Rivas and Ms. Alonzo-Sandoval will be teaching Dual Immersion 1st Grade. We thank Nancy Silva and Sandra Cisneros for their talented work in Dual Immersion this year.
Learning Director: We send out our best wishes to Maria Yakoub who has taken a position as a Learning Director at Ceres Unified closer to her home.

Other
The District is currently recruiting to fill the vacancy of our district-wide Music Teacher, Don Thissen, who is leaving our district. We thank Mr. Thissen for his service. We will announce our new music teacher in the upcoming weeks.
Finally, longtime teacher and administrator, Michelle Bush has accepted a position in Atwater Unified School District as Assistant Superintendent of Human Resources. This is a wonderful opportunity for Ms. Bush, who will be greatly missed. Ms. Bush currently serves as Senior Director of Student Support Services. Recruitment is currently in progress to fill this position.

In Summary
Change is typically met with mixed emotions. While on one hand we wistfully say goodbye to those who will leave us, we look forward with anticipation and excitement to the future.
We have many talented people interested in joining our district. Like all of you, they have a passion for our important shared responsibility – to provide a dynamic and rigorous public-school education that successfully prepares our students for the many challenges they will face in the future.
As we have in the past, we will collectively rise to the challenges that confront us. We have a terrific group of innovative, energetic and gifted educators and employees. We have outstanding facilities. We have an engaged and generous community that supports our efforts.
Please continue to view our website for Principal/Director and Teacher recruitment updates.
Working together, I am confident that DUSD's brightest days are before us.
Sincerely,
Aaron Rosander, Superintendent