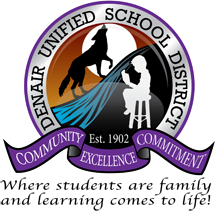 Submitted by Denair Unified School District
A Denair resident with a diverse and successful education background, an innovative elementary school teacher already in the district and an experienced bilingual instructor from Patterson were announced this week as the three new principals in the Denair Unified School District.
Kara Backman will take over at Denair High School, Kelly Beard will become the new leader at Denair Middle School and Lucy Zamora will take the reins at Denair Elementary Charter Academy.
The selections were revealed to teachers and other staff by Superintendent Aaron Rosander, who led a team that interviewed what he called six "outstanding" candidates last week.
Backman emerged as the choice to become the third principal in three years at the high school. She previously has served as principal at University Charter School in Modesto, Summit Charter Academy campuses in Porterville and Ceres, and Vanguard College Preparatory Academy in Empire.
Since 2011, she has been a managing associate at CT3 Education, traveling across the country to train other teaching coaches, school-based culture planning and leadership support based on No-Nonsense Nurturer Model and Real Time Teacher Coaching.
Her CT3 profile describes her as a "turnaround principal, a national transformational coach and a research-based, data-driven teacher."
Denair High has battled with declining enrollment for the past few years. Backman says there are no easy answers, but that there is "a ton of opportunity" to add programs and improve academic performance.
"We have to figure out what our purpose," she said. "What is going to be the identifier for Denair? What's going to be the thing that draws children here?
"There have been changes in leadership at the high school the past couple of years and that can be a challenge. What I told them was this: 'I'm not leaving. All three of my children will graduate from Denair High. I'm here for the long haul.' "
Backman and her husband, James, operate Small Town Genetics on property homesteaded decades ago by his grandfather. They have three young children – the oldest of whom will be in kindergarten at DECA next fall.
Her husband and many in his family graduated from the high school Backman now will lead. "It is very near and dear to my family. … We have some deep roots here."
She called the decision to live in Denair "simple," saying they were drawn by "a small, but rigorous community atmosphere embedded with high-quality education, rich agriculture and community trust."
Backman has a bachelor's degree from Fresno State University in agriculture education and animal science, and a master's from San Jose State in educational leadership. She also was a member of Stanford University Principal Fellows Program in 2010.
"Kara has rich, successful experience as a teacher and administrator, and is an instructional coach and national educational facilitator," Rosander wrote in his note to the high school staff. "She has strong ties to our local agricultural community. I've no doubt that Kara will settle right in and quickly join in partnership with you and our community to make DHS the best it can be."
Backman replaces interim Principal Joe Galindo, who took over in April after Alecia Myers went on a personal leave of absence.
Beard has taught first grade at Denair's elementary campus for her entire 13-year career, but said becoming a principal was a goal even when she was a student at Stanislaus State University. She returned to the school last year to pursue her master's and get her administrative credential; she'll be finished in December.
Before that, Beard's next few months will be a whirlwind. Earlier this spring, she was chosen to head up Denair's summer school program, which runs May 31 until June 24. She's taking three classes at Stanislaus State. And her new job begins July 1 – giving her a week of "rest" with her husband and 6-year-old daughter.
"I like to be busy," she said with a laugh.
Beard said she looks forward to collaborating with the two dozen or so DMS staff members to identify goals and set priorities.
"I'm ready to support all the great things that are happening there," she said. "… I know quite a few of the students. I know quite a bit of the staff because I used to be our union president and negotiator."
Beard believes that "every child deserves to be educated in a way that prepares him or her for college if he or she chooses to attend."
"Every child is capable of meeting academic standards, and the school has a power to make this a reality," she said. "As educators, we must take responsibility for the success of our students and be masterful innovators when it comes to educating students and meeting all their individual needs."
In his note announcing Beard's promotion, Rosander said she "brings great energy and invaluable understanding of our schools and district to the middle school."
Beard will replace Travis Manley, who is leaving to become the principal at Orchard Elementary School in Modesto.
Zamora has been a teacher for 13 years – 11 of them in the Patterson Unified School District. She spent nine years as a first- and second-grade instructor at Las Palmas Elementary School. For the past two years, she has been the lead teacher for Spanish Immersion Dual Language programs at Walnut Grove and Grayson schools.
Her bilingual ability and immersion experience will be important at DECA, which introduced a dual language program this year for kindergarteners that will add classes in first grade next fall.
"All my expertise is at the elementary level. And most of my classroom experience has been in dual immersion programs, so I thought this was the perfect fit," Zamora said. "I'm very excited and looking forward to meeting the staff and students."
At Las Palmas, Zamora also was part of the implementation team for No Excuses University – another program that was adopted this year at DECA. No Excuses University aims to instill a college-going culture in students at the elementary level.
"I'm very familiar with that program," she said. "It's a philosophy and a belief. You have to believe that the kids will go to college."
She also has helped train teachers in the use of technology in the classroom, Common Core math strategies and the new English language development framework.
"Lucy she has rich experience with dual language programs," Rosander wrote in his note to staff. "You'll no doubt enjoy her welcoming personality."
Zamora has a degree in child and adolescent studies as well as an administrative credential from Stanislaus State. She and her husband will continue to live in Patterson, where he commutes to a job in the Bay Area.
Zamora will replace Sara Michelena, who announced earlier this year she would step away from education for a few years to care for her two young daughters, one of whom has special needs.