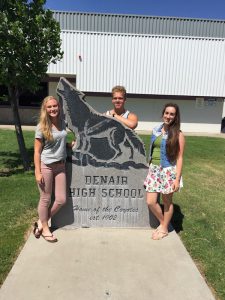 Submitted by Denair High School
The Denair High School Class of 2016 will be honored May 27 at a graduation celebration. The event begins at 7:30 p.m. at Jack Lytton Stadium. Gates open at 6:00 p.m. Tickets are not required.
Logen Arndt will be the valedictorian; Abigail Dirkse and David Sweeten are the salutatorians. Arndt (4.33) had the highest grade-point average among the graduating seniors while Dirkse and Sweeten had the second-highest (both 4.25).  All three students recently took time to answer 10 questions about their high school experiences.
Question: What are the key things other students should know about your academic success and how you achieved it?
Arndt: They should know that anyone and everyone can succeed in anything they do if they only put their minds to it. If you have the drive and perseverance to succeed, you can succeed in everything you do.
Dirkse: The reason I was academically successful at Denair was because in class, I always paid attention and made sure to ask questions when I did not understand something.
Sweeten: Do as much work as necessary to achieve what you want and nothing less.
Q: How much time outside of class did you spend studying or doing homework?
Arndt: I spend probably between one and four hours of work on a moderate day. Some days less; other days, I would come home at 1 p.m. and be up past 11 doing schoolwork.
Dirkse: Quite honestly, I did not spend a lot of time outside of class on daily homework because I made sure to use my time in class as best as I could so I would not have homework.
Sweeten: I did not spend any time outside of the school day on schoolwork.
Q: Which classes and/or teachers at Denair High had the most influence on you?
Arndt: Miss Schuchterman was a huge influence all throughout high school. I had her in at least two classes every year and she went above and beyond her duties to make sure I could get the classes I needed. She offered me a chance to take French and AP bio outside of the normal online class time by opening her classroom to me. This year, she let me participate in band when I didn't have room in my schedule by allowing me to miss my AP literature class at times and make up the work in a later class period. Mrs. Hilton also had a big influence on me as a coach and as a teacher. She really let me reach my full potential in everything she oversaw me doing.
Dirkse: Mrs. Hilton and Mr. Stav had the biggest influence on me. Both of them are always so happy to help you any time you need anything and they both taught me to work hard and believe in myself no matter what I am doing.
Sweeten: Academic Decathlon and economics teacher Mr. Wagner has influenced me a lot.
Q: How many Advanced Placement classes were you able to take? Were you challenged?
Arndt: I was able to take five AP classes over the course of the last two years. I took AP language and composition, AP literature, AP U.S. history, AP biology and AP statistics. All of these classes have been a challenge. The course pace is quick and everything from day one needs to be stored for the test in the beginning of May. These classes may have been difficult, but in the end, I think they helped prepare me well for my upcoming college career.
Dirkse: I was able to take four AP classes and was fairly challenged in all of them. I definitely had to work hard in AP statistics and study hard before every test and work really hard on doing well on all of my assignments.
Sweeten: I took four AP classes and was not particularly challenged in any of them.
Q: What kind of culture of learning exists in your home? What has that meant for your success in high school?
Arndt: At home, my parents have always encouraged me to be my best self in all the work I put out, but have never pressured me to get straight A's or pushed me beyond my breaking point. I think that really helped me at Denair because with their encouragement I knew I could achieve my goal of being valedictorian, but I knew that it was my choice and that took a lot of stress off of myself if I ever thought I needed to please them or get A's only for them.
Dirkse: In my house, going to school is considered my job and my siblings and I are all expected to do our very best. This has really pushed me to always try my hardest and has really had a huge impact in my high school success.
Sweeten: My parents encourage hard work in school and reward success with compliments and such.
Q: What should members of the community know about the quality of education at Denair High?
Arndt: The education is phenomenal. It's always given a bad rap, but I've never had a bad teacher here and every single one has time to work one-on-one with students to help the understand anything they struggle with. Education is what you make of it and if you put in the effort at Denair, anyone can get a high-quality education.
Dirkse: The quality of education at Denair is the same as the quality of education anywhere else. While bigger schools are able to offer a wider selection of classes and programs, I believe my education from Denair is a good one and I don't think it would have been any different from another school.
Sweeten: Denair lets students have a productive and supportive relationship with all their teachers.
Q: Outside of class, what kinds of teams, organizations or clubs are you involved in? How important are extracurricular activities in preparing you for college and beyond?
Arndt: Over the last four years, I was briefly involved in dancing at the Gaslight Theater and I was a cheerleader as well as a volleyball player all four years. I was also involved on the track team for the last three years. I have also been in the CSF Club and am now the president. I think it is extremely important to be involved in as many extracurricular activities as possible throughout high school because going into college having an immense knowledge of how to use one's time wisely and be able to juggle many activities as well as keep up good grades is a valuable skill that many people struggle with in their first years of college. Gaining that skill in high school will benefit me in college.
Dirkse: Outside of school, I was on the football team (as a kicker) for two years, on the varsity soccer team for four years, a lifetime member of CSF and very involved in FFA. All of these things have taught me the value of hard work and time management, which I think will play a huge role in my college career.
Sweeten: Track and field; Academic Decathlon. They are important because they encourage hard work and dedication.
Q: What is the right balance for teens busy with school, teams or clubs, and even part-time jobs?
Arndt: I don't think there is any one set balance that will work for every student, but overall I think everyone should have as many activities outside of class as their time allows to clear their mind. For those with less schoolwork, they can do more and those with more homework should do less outside of class because school should come first but it definitely should never take over anyone's life entirely.
Dirkse: I think for teens with a busy schedule, it is very important to stay on top of things and not to get behind. Learning how to manage time in class is also very important.
Sweeten: There is no point to life if you don't have fun. Find things you love that are also productive and commit yourself to those. But never lose sight of your responsibilities.
Q: What are your college and career plans?
Arndt: I will be attending the University of California at Davis to work on obtaining a degree in a life science. I have not yet declared a major yet. After my education, I hope to become a surgeon and work in a hospital as my career.
Dirkse: After high school, I will be attending Modesto Junior College for two years and then hoping to transfer to Cal Poly, San Luis Obispo. I want to become a high school agriculture teacher.
Sweeten: I will be attending Santa Barbara City College in fall before I transfer to a university. I plan to become a high school economics/social science teacher.
Q: What themes are you going to talk about in your speeches on graduation night?
Arndt: Most of my speech is dedicated to how fast high school went by. I'm sad to see it all ending, but it just opens the door to the new adventures on the other side.
Dirkse: I will be talking about my experience at Denair and the future of our class.
Sweeten: I want to touch on the deep and philosophical nature of change, as well as show gratitude to the people who have helped me.