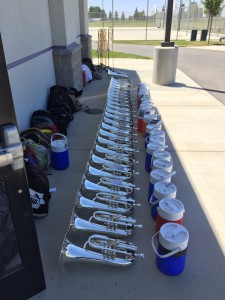 Submitted by Denair Unified School District
Neighbors and others within earshot of the Denair High School stadium and middle school field this week may be wondering about sounds of horns and the beat of drums they've heard. They may even have caught a glimpse of dozens of teenagers waving colorful flags.
Here's the answer: The Vanguard Cadets Drum and Bugle Corps from Santa Clara once again are using the grassy fields and other facilities in Denair to prepare for the summer competition season. It is the seventh year in a row that the 150-member organization has held a weeklong camp at the adjoining high school and middle school sites.
"The relationship between Denair and Vanguard has been positive and has generated interest to the degree that folks will stop by to watch," said Aaron Rosander, superintendent of the Denair Unified School District.
Twice in the past three years, the camp provided a springboard to the Drum Corps International Open Class Championship, which the Bay Area group has won four times (2000, 2008, 2013 and 2015).
"We make a lot of noise, so it's easy to become a distraction. The people here are really nice; very welcoming," said Steve Barnhill, the corps' director. "The facilities are great. We're right next to the cafeteria. We're right next to the quad. We have access to football field. And it's quiet and safe at night.
Vanguard's group includes about 70 musicians in the brass section playing trumpets, mellophones, trombones and tubas; 42 in the color guard waving flags, twirling rifles and dancing; 35 in percussion playing snares, quads, xylophones and marimbas; three drum majors; and about 20 adult instructors. The caravan of three buses, a semi-trailer full of instruments, flags, uniforms and equipment, and a mobile kitchen arrived Thursday.
The cadets bunk in the middle school gym while the adults use various classrooms. "We all have air mattresses," Barnhill said. "This gets our kids and our parental volunteers used to the idea of living out of a suitcase and sleeping on air mattresses. We couldn't afford it otherwise. It's not practical. Plus, we need the space a school provides to rehearse. We're very self-sufficient."
The daily schedule is jam-packed. Music and color guard practice begins at 8:30 a.m. and continues until 10 p.m., with breaks only for lunch and dinner. There is no time for sight-seeing or other social activities.
"We're here to work. This is what they signed up for," Barnhill explained. "We want to put a complete product out there."
With temperatures forecast to near 100 degrees starting this weekend, Barnhill said much of the physical activity will be restricted to the morning and evening. "We'll talk about how to address the heat. We don't want kids to be burned out. … We'll make sure there's plenty of water."
The musicians and color guard represent an all-star team from the Bay Area. For those who haven't attended a performance, think of the halftime show at a football game – only better. Every year, a new routine is created. This summer's theme is taken from "The Hunger Games" books and movies.
"It's about the power of one person to make a difference and the whole philosophy of that series," Barnhill said.
The cadets will put on a dress rehearsal Thursday, at Denair High, beginning at 7:30 p.m. The public is invited to attend free of charge.
Cadets range in age from 14 to 21 years old; most are still in high school. Many go on to perform with the elite Vanguard Drum and Bugle Corps, a six-time world champion whose members are mostly in college.
The cadets have a busy weekend of competition with an event June 24 in Fresno and other shows in Sacramento and Stanford. There are more events in the Bay Area and Southern California scheduled in July before a series of competitions in the Midwest. They will try to defend their national title Aug. 9-12 in Indianapolis.