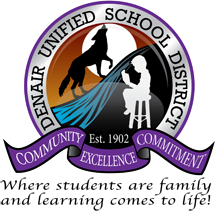 Submitted by Denair Unified School District
With little comment and cautious optimism for the future, Denair Unified School District trustees unanimously approved a $13.5 million budget for the 2016-17 school year Thursday night.
The new budget includes 1% salary increases for all employees, one-time investments in technology and academic programs, additional state-mandated contributions to retirement plans and two new teachers at Denair Elementary Charter Academy to expand the dual-immersion Spanish language program.
"What a change we've seen in our budget the past three years," said board President Sandi Dirkse.
In 2013, the district was on the verge of state takeover because of its precarious financial position. It slashed salaries for all employees 8% and needed loans from the Stanislaus County Office of Education to balance its books.
Those difficult days are behind DUSD now, though continued enrollment declines at Denair High School have offset gains made at its two charter campuses – DECA and Denair Charter Academy.
Linda Covello, the district's chief business officer, said next year's budget has an ending balance of $3.3 million, which includes about $600,000 in restricted funds that only can be spent on one-time projects.
In other action Thursday night, trustees:
Unanimously approved 1% salary hikes for Superintendent Aaron Rosander and Covello. They were the final two employees who had not yet received raises.
Agreed to shorten administrators' schedules from 220 to 210 days per year. Teachers and classified staff – both represented by unions – are contracted to work 180 and 200 days, respectively.
Adopted Local Control and Accountability Plans (LCAP) for the district and each of its four campuses. They are three-year overviews of specific academic and programming goals and how the district will pay for them. They were formed with input from the community as well as staff members.