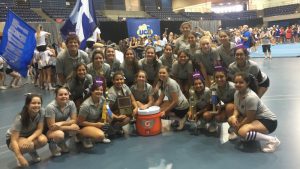 Submitted by Denair High School
Robyn Hilton could not be more proud of her Denair High School cheerleading squad. In late June, the 22-member team attended a prestigious camp at UC Davis and came away with the top award, beating out 14 other schools from all over Northern California.
The Leadership Award is presented on the final day of the three-day camp. It is voted on by all the camp goers and represents the team they would most like to join because of its spirit, its willingness to learn new stunts and dance steps, and its work ethic.
It was quite a kickoff for the 2016-17 group, which features incoming eight freshmen as well as two sophomores, six juniors and six seniors.
"We definitely showed school pride and spirit. I am extremely proud of our team," said Hilton, adding that winning the Leadership Award has been a goal for at least the past four years.
"It's an award that reflects character. That's even more important than the cheerleading skills," she said. "We all went through those three days together. They pushed themselves to be in the front, to start games, to meet people, to get out the box and to really have fun."
The camp is run by the United Cheerleading Association. There is a full schedule each day starting at 8:30 a.m. and going until about 8 p.m. Each team is taught the same set of stunts, but develops its own routine to feature them.
"It's nice to have so many who are experienced. The seniors really help to support the underclassmen. We had practiced every week leading up to camp, but camp is a lot of hard work," Hilton said. "There were lots of bumps and bruises and tumbles."
Denair's team features five flyers (the members at the top of the pyramids who are caught by others), 10 bases, five back spotters and two front spotters.
"Once you have a position, that's it for the year," explained Hilton, a 2008 Denair High graduate and former cheerleader who now teaches math at the school.
The cheerleaders and their coaches stay in the dorms at the university, eat in the cafeteria and, according to Hilton, "make friends from all over."
On the final day of camp, all the practice culminates in a show in front of the other cheerleaders as well as parents and friends.
Denair finished second in the Camps Champ competition, reflecting the team's ability to demonstrate the stunt. But it was the announcement of the Leadership Award that capped off a memorable three days.
"We were yelling and screaming and very, very excited," Hilton said. "We won a big Gatorade cooler and a plaque. It means a lot because it's voted on by the others at the same camp."
The award is the latest highlight for the Coyotes. Last fall, Hilton arranged for them to perform at a Sacramento Kings basketball game. The year before, it was an Oakdale Raiders game. She's trying to schedule a similar experience in the next year at another professional event.
In the meantime, Denair's award-winning team will enjoy some well-deserved time off until school starts in August.
Members of the team are Tati Abebe, Ali Acosta, Roxy Chavez, Piper Ciccarelli, Wanda Elliot, Cristal Fuentes, Matea Gallardo,  Jaileen Gazcon, Hannah Knox, Abby Martinez, Jenna Nascimento, McKenna Potter, Courtney Prock, Diana Rodriguez, Madison Snider, Kylie Stout, Jennifer Tachiquin, Danielle Tigner, Chenoa Urchison, Abby Vasquez, Robert Williams and Madison Womack.
In addition to Hilton, the coaches are Sandy McDonald, Blayke Millsap and Hannah Yanez.