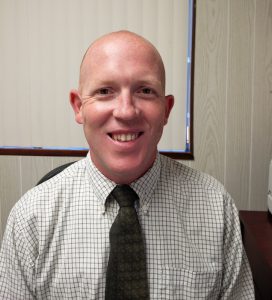 Submitted by Denair Unified School District
Brian LaFountain might have been an FBI agent. Or a lawyer. Or a whiz-bang minor-league baseball marketing executive. Instead, he became a teacher nine years ago, fulfilling a passion to work with and make a difference in the lives of children.
That circuitous career path has delivered him now to Denair Charter Academy, where he took over earlier this month as the principal. It's a role he seems uniquely suited for.
DCA offers home-school curriculum for K-8 students as well as an independent study alternative for high school students who haven't found the right fit in a traditional setting, have work or other family responsibilities, or have been expelled. The campus serves about 300 students, most of them high school age.
For the past seven years, LaFountain has worked in the Patterson Unified School District. Last year, he was the coordinator of the Open Valley Independent Study program.
"It is an alternative school of choice. It's very similar to DCA," LaFountain said. "The biggest difference is DCA is charter school and has the flexibility that brings."
Patterson is LaFountain's hometown. He grew up there, graduated from Patterson High School and once aspired to become an attorney, with an eye toward finding a job with the FBI or Bureau of Alcohol, Tobacco and Firearms (ATF).
"My degree is in criminal justice from CSU Stanislaus. I wanted to be an FBI agent. I had a full ride to UC Davis law school," LaFountain said. "Then I met with 11 lawyers in 11 fields of law and decided I didn't want to be a lawyer."
He ended up working in banking for a short time, then got a sales job at Big 5 Sporting Goods (where he worked with the husband of Denair Middle School Principal Kelly Beard). He moved on to an unpaid internship with Modesto A's baseball team and did so well they created a full-time position for him.
Eventually, he followed his passion – working with children. He became a substitute teacher while going back to college to earn his teaching credential. He began his education career as a middle school teacher in Stockton before moving to Patterson seven years ago.
Even in Patterson, LaFountain admits keeping a close eye on any openings in Denair. He and his wife bought a house just behind the Denair High football field a couple of years ago. Their 11-year-old son and 8-year-old daughter attend Denair schools, and now they won't be far from their father, who jokes that he's traded a "40-minute commute to Patterson for a 40-second walk to his new office."
LaFountain replaces Dawn Allen, who left to take a job with the Sylvan Union School District in Modesto. Because he was hired after the school year ended, LaFountain hasn't had a chance to meet many on his new staff, though he has reached out by phone to introduce himself. He said walked into an empty office on July 18 after a weeklong camping trip near Lake Tahoe with his family.
"Right now, I'm getting myself acclimated to how they do scheduling and the flow of paper work. I'm learning where we're at with budgeting and staffing. Fortunately, there are no openings," he said.
He expects to be formally introduced to his staff Aug. 8 before classes begins Aug. 11. And before that, plans are to turn DCA's current office into a child-care area and relocate La Fountain and his administrative aides to the old district office nearby.
LaFountain said all the concurrent changes "will make things interesting."
"I always like trial by fire," he said with a laugh. "There's not much that overwhelms me or scares me or that I think that I can't take on."