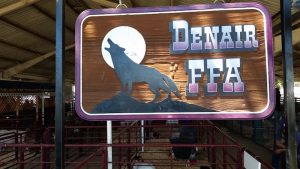 Submitted by Denair High School
The 28 Denair High FFA students had an exceptional 10 days at the recently completed Stanislaus County Fair, collecting award after award and successfully competing against much larger schools.
"I believe our students represented the quality of school, community and FFA programs we have at Denair. Across the board, our students have thrived and I am committed to continue to build the FFA program at Denair for all students," said Matthew Marshall, one of the high school's two ag teachers.
Here is a complete list of Denair's awards from the fair, which ran from July 8-17.
Dairy
Denair FFA: 1st place Clean Barn Award, 3rd place Grade Dairy Chapter Group Award, 5th place Registered Dairy Chapter Group Award
Carson Haringa: 4th place Advanced Dairy Showmanship
Ryan Haringa: 1st place intermediate Dairy Showmanship
Chase Pritt: 1st Place novice Dairy Showmanship
Bryson Prock: 6th place intermediate Dairy Showmanship
Alyce Silva: 8th place intermediate Dairy Showmanship
Meat Goats
Denair FFA: 2nd place Chapter Group Award
Kelsey Park: 3rd place Novice Goat Showmanship
Markus Rocha: Champion Drive Market Goat, Reserve Junior Buck,  2nd place Advanced Breeding Meat Goat Showmanship, 7th place Master Showmanship (7th best showman, out of 1,400+ exhibitors)
Cierra Rodriguez: 8th place Novice Goat Showmanship
Dairy Goats
Heidi Johnson: 5th place Advanced dairy goat showmanship
Beef
Abi Dirkse: 1st place Novice Beef Showmanship, Grand Champion Grade Female
Weston Fair: 2nd place Advanced Beef Showmanship, Reserve Grand Champion AOB heifer
Sheep
Chris Galhano: Reserve Grand Champion Ewe, 2nd place Advanced sheep showmanship
Tristan Haile: 2nd place Advanced Breeding Sheep Showmanship
Crystal Mancilla: 6th place Novice Sheep Showmanship
Pigs
Andrew Malagon: 3rd place novice swine showmanship
Rabbits
Danielle Tigner: 5th place Meat Pen
Chenoa Urchison: 12th place Meat Pen
Eva Varni: 13th place Meat Pen
Ag Mechanics 
Beau Carli: 1st place Ag Mechanics projects (orchard float), Best of Show, Outstanding Safety Device
Abi Dirkse: 2nd place Ag Mechanics project (potting table)
Joey Freitas: 1st place Ag Mechanics project (trailer BBQ)
Chris Galhano: 1st place Ag Mechanics project (entertainment center)
Bryson Prock: 1st place Ag. Mechanics project (trailer refurbishment)
Markus Rocha: 1st place Ag Mechanics Project (barrel BBQ)
Marshall also singled out these groups, businesses and individuals for their contributions to the Denair FFA during the fair:
Denair Ag Boosters for donating the shavings and straw fair for our students and for providing meals
Turlock Feed the Lewellen family for their work with the FFA chapter and donations of supplies
West Steel, T.J.  McDonald and Jim Thomas for their donations and assistance with our Ag Mechanics projects.