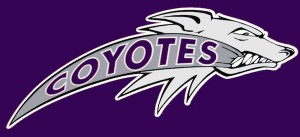 Submitted by Denair Unified School District
In addition to being a football coach, Anthony Armas is a math teacher. He understands numbers. And the bottom line tells a worrisome tale for this year's Denair High team: There are just 16 players on the varsity roster.
There's no getting around the impact of that fact. It changes how Armas and his coaching staff approach practices, it changes how physical the players can be during the week for fear of injury and it changes game strategy with so many required to play both offense and defense.
"The coaches knew when we came over what we were getting into," said Armas, a Denair High graduate beginning his second year as head coach. "Having 16 guys is terrifying sometimes. We're walking on eggshells. If someone starts limping in practice, I get nervous."
Having acknowledged the tiny turnout, Armas remains upbeat about the upcoming season and the Coyotes' chances to improve on last year's 3-7 overall record. They begin Friday at home against Summerville. Kickoff is at 7:30 p.m. at Jack Lytton Stadium.
Denair more than held its own in Saturday's scrimmage with Linden, Mountain House and Delhi.
"We did well against them all. Our execution was good for this point in the season," said Armas, crediting that to the continuity of running the same offensive and defensive schemes for two years in a row. "The players are really understanding what we're trying to do. We even had kids coming up to coaches suggesting which plays might work."
Armas said his defense was "dialed in" and the offensive line matched up well against all three opponents. The only concern following the scrimmage was the health of junior tight end and linebacker Dylan Mann, who banged up his shoulder and may not be able to play Friday.
For most football teams, having a single player injured wouldn't be a problem. For Denair, the question mark next to Mann means others had to learn new positions this week. There's a strong possibility that on most Friday nights, there will be more coaches on Denair's sideline than reserve players.
Armas says he and his staff already have adapted. Practices are no more than 2 hours, a half-hour shorter than many schools. There is lots of technique work using cones and drills instead of the one-on-one hitting common at bigger programs. If players seem to be picking up what the coaches want them to learn, a 10-minute drill might be shortened by a minute or two.
All with the goal of saving as much energy as possible for Friday nights.
"We do have low numbers, but we also have nine starters back on offense and defense," Armas said. "That's another reason we run the offense we do."
The Coyotes' Wing-T attack relies on misdirection and blockers using leverage instead of trying to overpower opponents. With only one player weighing more than 200 pounds – and several less than 150 – Denair is not going to physically dominate anyone.
One thing Armas won't do is conduct joint practices with the junior varsity team, which has about 10 more players – including 21 freshmen.
"I've seen that before and it always seemed like a JV kid got hurt – and usually it was the best kid on the team," he said.
Armas is clear-eyed about the quality of the Southern League, where the Coyotes went 2-5 a year ago. Orestimba and Gustine are expected to be strong again, Mariposa always seems to be tough, and LeGrand, Ripon Christian and Delhi could be improved.
It will take mental as well as physical toughness for Denair to compete.
"We reiterate that to the guys every day in practice," Armas said. "We tell them, 'Guys, this is all we have. There's no cavalry coming.' They've got a good attitude. The kids are mature enough to know the situation they're in."
2016 Denair Coyotes Football Schedule
Date                                 Opponent                      Place         Kickoff
Friday, Aug. 26              Summerville                   Home         7:30 p.m.
Friday, Sept. 2               Delta (Clarksburg)         Home         7:30 p.m.
Friday, Sept. 9                Brookside Christian         Away          7:30 p.m.
Friday, Sept. 16              Bye
Friday, Sept. 23*            Gustine                             Away          7:30 p.m.
Friday, Sept. 30*             LeGrand                          Away          7:30 p.m.
Friday, Oct. 7*               Ripon Christian              Home         7:30 p.m.
Friday, Oct. 14*              Orestimba                        Away          7:30 p.m.
Friday, Oct. 21*             Delhi                                Home         7:30 p.m.
Friday, Oct. 28*              Mariposa                          Away          7:30 p.m.
Friday, Nov. 4*              Waterford                        Home         7:30 p.m.
 *Denotes Southern League game
Here's a YouTube video preview of the Coyotes upcoming season.https://www.youtube.com/watch?v=xjdGQl6azr8