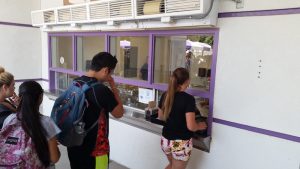 Submitted by Denair Unified School District
School is barely two weeks ago and Denair High students already know where they want to be at lunch. The Culinary Coyote.
Within minutes of the bell sounding, the long lines start forming in three queues. The attraction? Hand-made burritos. Burgers, hot dogs and potato wedges. Chinese entrees. Savory pastas and pizza. An assortment of fresh fruit and vegetables.
And all for just $2.10 per meal. Talk about a bargain.
The Culinary Coyote is the brainchild of food services director Billy Reid. It has been three years in the making, time spent creating the right menus and funding formula to pay for it all. The results – measured not just in numbers of students served, but in satisfaction and smiles – are easy to see.
"It's been amazing so far," said Kim Anderson, the food service coordinator. "Our count is way up. A big day before was 150 students and we've been averaging almost 200 this year."
Reid's vision was to expand the options from which students had to choose and improve the quality while remaining sensitive to price. More than half of the children in the Denair Unified School District qualify for free or reduced price meals.
"We're serving better food than ever," Reid said. "We've been able to increase volume while reducing prices to stimulate growth."
There are four diners under the Culinary Coyote banner, each of which rotates menu items daily:
The Hot Rod Café, which features burgers, hot dogs, popcorn chicken and biscuits, potato wedges and barbecue chicken sandwiches.
The Taste of Italy, which last week had two kinds of pizzas (pepperoni and cheese), baked ziti and buttery garlic bread sticks. Other choices include spaghetti and meatballs or lasagna.
The Taste of the Far East, where students can decide between chow mein, rice, stir fry veggies or Szechuan chicken. There also are fortune cookies, of course.
A Build Your Own Burrito Bar, a popular destination in the first weeks. Students select a meat (chicken or beef) or beans, then can add tomatoes, guacamole, sour cream, salsa, peppers and olives as they wish.
The appeal of pizza, burgers and burritos with teenagers isn't a surprise, but the Taste of the Far East has been holding its own in the early going.
"It's been our most popular section," Reid said.
The reaction among students has been overwhelmingly positive.
"This is 10 times better than before," said senior Jordan Cope, who says the beef burrito is his favorite.
"The flavor of everything is better," agreed senior Vanessa Chavez. "I like the chicken burrito, but I've also tried the pizza. It's very good."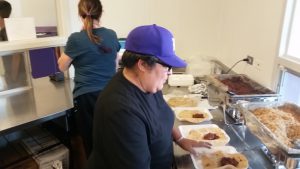 Senior Daniel Hagens also is a fan of the new menus. "I like the Chinese food and the pizza is very good. I would much rather eat here than bring my lunch from home."
Senior Brianna Perez's only "complaint" is that the burritos "don't fold because they have too much in them."
Anderson chuckled when informed of that comment. "They'll learn to not put quite so much in them."
"Last year, kids didn't have hand-made burritos. They were rolled with cheese and beans," she said. "This year, it's customized and personalized. Nothing is pre-made. It's making them eat healthy. That's the key."
Health always a major factor in the menus Reid and his four-person staff create. Milk is available. Students are encouraged to choose from apples, nectarines, plums and other seasonable fruits as well carrots, broccoli and fresh veggies.
Payment not only is amazingly affordable, it's made more convenient with preloaded online accounts. At checkout, students simply punch in an ID code that deducts the cost from their balances. Students who deposit at least $20 at a time online receive one free lunch as an incentive.
In Reid's mind, the first weeks have been an undeniable success.
"This is a 'soft' opening," he said. "Usually, the first few weeks are slow. But this is new. Where we expected to be in a month from now, we're already there. If we keep making it vibrant, we're going to be fine."