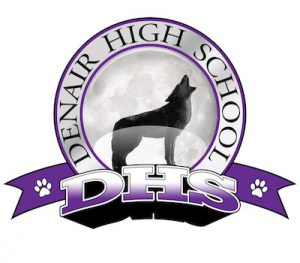 Submitted by Denair High School
Football may be king on Friday night, but there are two other sports being contested this fall by Denair High athletes – volleyball and, for the first time, boys and girls cross country. Here's a quick look at what to expect from those teams.
Volleyball
There was big news even before the season started as the players had to absorb a late coaching change. Second-year coach David Lewellen, who is a walk-on, will not be available for at least half the season because of scheduling conflict with his law enforcement job.
With long odds of finding another coach at the last minute, Denair Athletic Director Darrin Allen stepped into the breach. He and volunteer assistant Yulissa Tafoya will fill the void, with Lewellen coming to as many practices as he can make.
"I can't be here as much, but it's made it an easier transition having all these people to help," Lewellen told the Turlock Journal.
The Coyotes didn't win a match last year, going 0-14 in the Southern League and 0-15 overall. Still, with four seniors returning, many of the girls having gained experience and the addition of a talented transfer, Denair has reasons for optimism.
The seniors are Vickie Adler, Ileah Brantley, Kelsey Park and Eva Varni. The transfer is 6-foot-1 outside hitter Cheyenne Souza, a sophomore who attended Pitman High in Turlock last year.
"She is very good," said Lewellen. "She can almost be playing anywhere and I am really excited with the team this year. The fact that she wanted to come here and play with us is a huge confidence booster."
The Coyotes have played just one match so far, losing in three sets to Argonaut in Jackson on Sept. 1. Their first Southern League match is Sept. 12 at home against Waterford at 6:30 p.m.
Cross Country
Denair joins Delhi and Gustine as Southern League schools who added cross country this fall. Because many of the other SL schools still don't offer the sport, those that do will compete in the Trans-Valley League.
Coach Matt Groom has 15 runners on his roster – 11 boys and four girls. Already, some of his athletes have shown they are contenders to qualify for the Sac-Joaquin Section Division V subsections in Angels Camp in November.
Wednesday at a TVL meet at Tuolumne River Regional Park in Modesto, senior Hector Jimenez finished 10th over the 5-kilometer course in 22 minutes, 13 seconds. Two other Coyote runners were in the top 20 – Alex Flores (14th, 22:23) and Cesar Flores (15th, 22:32).
"Alex already has proven himself to be a strong leader. He and Jimenez are strong in both the distance running and the sprints," said Groom, who also is an assistant coach in track in the spring.
In the girls' race, senior Janet Garcia finished 10th in 30:42, followed by senior Crystal Mancilla (11th, 30:49) and Christina Abebe (16th, 32:18).
Denair had two of the top JV boys in the two-mile race — Uriel Gonzalez (4th, 13:35) and Trent Hulbert (6th, 13:47).
The next meet is the University of the Pacific Invitational on Sept. 24 in Stockton.