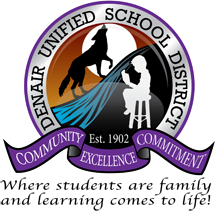 Submitted by Denair Unified School District
The shared satisfaction associated with growing enrollment in the Denair Unified School District this year led to a frank discussion between teachers and trustees at Thursday night's board meeting: When will the extra money tied to more students lead to more pay for staff?
Board members and administrators were adamant that teachers and classified staff who took pay cuts of 8% or more in 2013 as the district faced financial crisis are in line for unspecified raises. But the leaders also cautioned that it will be at least until October – when 2016-17 enrollment is locked in by the state – before they can begin to analyze how much they can afford to add to paychecks and when.
The district has 1,306 students on its four campuses, well above the 1,243 anticipated in this year's budget. Under the state's funding formula, each student is worth about $8,000 in average daily attendance (ADA), the primary funding mechanism for public schools.
Knowing that, about a dozen teachers attended Thursday's meeting to lobby for salary restoration. Their request led to assurances from Superintendent Aaron Rosander and Board President Sandi Dirkse that more money will be shared with all employees.
"The plan is to restore. As the enrollment grows and ADA increases, my recommendation to the board will be to restore salaries," Rosander said.
Dirkse was passionate in her acknowledgment of the financial sacrifices made by staff, saying: "It is absolutely our desire to see salaries restored. We understand that the district is nothing without our teachers. It's absolutely our priority. As soon as we see that ongoing money, it's yours. When we have the money, we want you to have it. We want to see that everyone across all salary schedules is restored."
The additional dollars that come with more students was only part of the good news Thursday. Linda Covello, the district's chief business officer, said Denair finished the 2015-16 school year with about $400,000 more in unrestricted money than it expected, mostly because of lower special education costs. That money flows directly back into the general fund – which pays for salaries, among other items.
Covello said the district also saved about $200,000 in restricted maintenance money, which also carries over to this year, but can only be spent on buildings and facilities.
Rosander heaped praise on the entire staff for the smooth start to the school year. He agreed with some of the teachers as well as trustees that there is a tangible difference in the mood on all the campuses.
"There's a lot of energy," he said. "This is a great time to be here. This is what we've been working toward, to see this ADA grow. We're gaining traction to reposition and rebrand the district. A lot of hard work and sacrifice is starting to pay off in a huge way."
Added Dirkse: "We have turned the corner. We can have nice facilities, but what really matters to parents is what happens in the classroom."