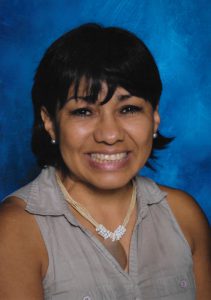 Submitted by Denair Elementary Charter Academy
Name: Zenobia Ochoa
Family: Joseph Allen, Dylan Rasmussen and David Rasmussen
School: Denair Elementary Charter Academy
Subject taught: Kindergarten Dual Immersion
Experience and education: I worked for the Migrant Education Program for 15 years, taught  ESL for the Stanislaus County Office of Education for 12 years, Turlock Junior High for three, and dual immersion in Riverbank and Tracy. I also worked as a counselor assistant for the Modesto High School through Migrant Education. I graduated from Stanislaus State University with a double major in political science and education, and a minor in philosophy. Last, I finished my master's degree in multilingualism, speak two languages fluently as well as some Russian, Italian and Portuguese.
Why most inspires you about teaching? My students feeling excited about learning and making progress at the end of the year.  That is my inspiration.
What are your biggest challenges as a teacher? My biggest challenge is to teach young students to think and explain every answer in a logical and sensible way. It is important to dig into ideas and add lots of details. Students at a young age have difficulties being rational, but have to be taught to think and have deeper understanding of the subjects. The task is not easy for me or my kids.
What is your favorite teaching tool or activity? Using lots of large dice and household materials that help students make a connection between math and the real world. I try to do activities that are fun and motivating to kids. Learning is a lot more fun when you are experiencing the world of learning, not just sitting through it.
How has Common Core affected your classroom strategy? First, its goal is to prepare students for college or career. Collaboration and teamwork is one of my strategies I use in my classroom.  It teaches students how to be responsible for their learning and the learning of their peers. They learn to share ideas and work together. This prepares them for the future and the global business environment.
What do you want your students to remember? The fun of learning and to realize that learning never ends.
How can parents support what you do? By helping their children do their best in their classroom assignments, create a good home environment that encourages education, and build respect and trust for teachers. After all, we are all in education working together and preparing our students with one common goal to prepare those children well for college and careers.
What will it take to improve academic success in DUSD schools? Collaboration between principal, teachers, parents and the district. We are on our way to achieving this goal and together will go beyond our own expectations.
What's next in your classroom? Teach my students to be bilingual in English and Spanish. Speaking a second language will open new doors for them in their future careers.
What would surprise people about your job?  That the job of a good teacher doesn't end when the kids go home.
What do you do for fun?  Travel to uncommon places in the world and spend time with my family and my two dogs.