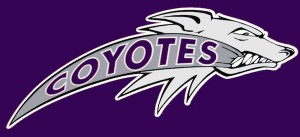 Submitted by Denair High School
There's nothing like giving up a 99-yard touchdown pass to get a defense's attention. Such was the case in Denair's 26-6 victory Friday night over Brookside Christian, which shocked the Coyotes with a long throw-and-catch while backed up on its own 1-yard line early in the game.
They were the only points Denair surrendered.
"It was a 20- or 30-yard pass, kind of a jump ball, and their kid came down with it and got loose," said Denair Coach Anthony Armas. "After that, we really settled down."
Having scouted Brookside Christian (0-3) on tape, Armas and his staff were prepared for the Knights' passing attack. Denair (2-1) replaced a lineman with outside linebacker Blake Davis, who helped secure some of the short zones on defense. And despite often rushing just three players, Denair got plenty of pressure on the Brookside quarterback, forcing him into hurried and off-balance throws that led to four interceptions – three by Justin Steeley and another by flu-ridden Chase Pritt.
On offense, the Coyotes relied on a consistent running attack the entire game. Despite being stopped on the 1-yard line on its first drive – the one that preceded the Knights' long TD pass – Denair dominated up front, consistently opening holes for running backs Brendan Curnow (3 TDs) and Steeley (1 TD).
"We're grinding (drives) out," Armas said. "They were stacking the box. We had a couple of issues protection-wise, but we could run the ball when we needed to."
Denair took the lead for good in the second quarter with a TD run and two-point conversion. The Coyotes expanded on their 8-6 halftime advantage with three more scores, all on the ground.
"They were definitely a first-half team," Armas said. "They're kind of in the same boat we are. They only had 19 kids. We figured we'd run the ball and wear them down.
"We ran the ball well, but I still think we're not where we need to be. We still missed some assignments. Our running backs are running hard, though. The effort is there."
This week: Denair has a bye, giving the team plenty of time to recover from a mild flu bug that slowed some players last week. The next game is the Southern League opener Sept. 23 at Gustine. Armas and his staff will have a chance to scout Gustine on Friday night at Modesto Christian. "We'll try to keep the routine pretty much the same this week, but we'll probably practice in shells (helmets, shoulder pads and shorts) on Monday."