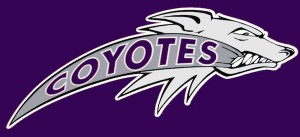 Submitted by Denair High School
As frustrated as Denair coach Anthony Armas was with his offense after six first-half turnovers Friday night, he was equally delighted with his defense. He had a choice to make during the break: Criticize the offense or heap praise on the defense? Because, as everyone is well aware by now, those are the same players thanks to the Coyotes' small but tenacious roster.
"It is weird sometimes," Armas admitted. "I want to say something to one group, but then I realize they're the same kids playing both ways."
Armas settled for a reminder about ball security when Denair was on offense and told the Coyotes to keep doing what they had been doing on defense. The result? Denair rallied from a 6-0 halftime deficit against Mariposa, using three touchdowns by Justin Steeley to outlast the Grizzlies 26-12.
The hard-earned victory – which came on the road on a field Denair has had little success on – moved the Coyotes one step closer to an improbable spot in the Sac-Joaquin Section Division VI playoffs. Denair is 4-2 in the Southern League (tied with Delhi and Gustine for second place) and 6-3 overall.
A victory at home this week in the regular-season finale against Waterford almost assuredly would clinch a playoff spot for Denair, despite playing with 12 to 16 players most of the season.
"We told the kids a few weeks ago that our playoffs had already started," said Armas, a Denair graduate in his second year as head coach. "We figured we had to run the table in order to have a chance."
Orestimba (8-1 overall, 6-0 in the SL) already has clinched the league championship and one of the SL's two automatic berths. The other spot comes down to Denair, Delhi and Gustine – and Denair appears to have the edge there.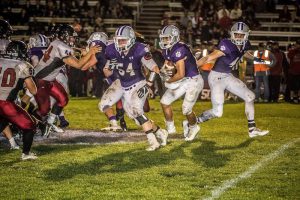 The Coyotes host Waterford (4-5, 2-4), which is coming off an upset of Gustine. Delhi has lost two in a row, its best players are banged up and it has to play at Ripon Christian (2-7, 1-5). It could be vulnerable again. And slumping Gustine plays its rivalry game at Orestimba.
If Denair can beat Waterford, it could end up in second place all by itself. The worse it could be is in a three-way tie for second, having won three games in a row. Armas and his players plan to gather together Saturday at 4 p.m. when the playoff matchups are announced.
The postseason, however, was anything but assured after the first half against Mariposa. Denair lost four fumbles and threw a pair of interceptions in what Armas called "our worst half on offense" all season.
Fortunately, the defense kept the Coyotes in it.
The defense bought enough time for Steeley and Brendan Curnow to make their presence felt again on offense. With quarterback Kyle Prock sidelined for a second week for a knee injury, the Coyotes leaned heavily on their two senior stalwarts in the backfield.
Steeley capped a long drive to open the second half with a 1-yard run. Denair went for two points on the conversion, but failed to make the score 6-6.
Mariposa rallied to take a 12-6 lead before Curnow tied the game early in the fourth quarter on a 15-yard run – his 14th touchdown of the season and first in three weeks. Again, the Coyotes failed on a two-point pass attempt.
Then Steeley proved why he is the heartbeat of the team and one of the top two-way players in the league.
With about five minutes to go, he took a handoff and split the Mariposa defense for a 55-yard run that game Denair the lead for good. Another two-point attempt was no good, but Steeley made that moot with another sterling play on defense. This time, he stepped in front of a Mariposa pass and returned the interception 53 yards for the clinching TD. Finally, a two-point conversion worked, giving the Coyotes a 26-12 advantage.
Steeley now leads the team with 15 touchdowns.
"He's a very, very good player," Armas praised.
Junior varsity game: Unbeaten Denair won 32-6. The first-place Coyotes are 7-0 overall and 6-0 in league play.
This week: Denair's fairytale season culminates with Senior Night at Jack Lytton Stadium against Waterford, which is coming off its biggest victory of the season with a road win at Gustine last week. "Our guys know that we control our own destiny," Armas said. Prock will take snaps at practice this week, but Armas said it may not be known until game time whether he can play or not. Dylan Mann remains in line to start a third straight game at quarterback if Prock is unavailable.