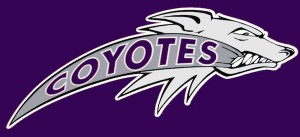 Submitted by Denair High School
Forget the numbers. It was always about heart and will and determination with this year's Denair High football team. While the doubters and the others fixated on how few players Denair had, the Coyotes focused on what they could control – effort and desire. They practiced hard and played even harder, accomplishing goals few outsiders believed were in reach.
Never mind Friday's 48-12 Sac-Joaquin Section Division VI playoff loss to a more talented Amador team. The 2016 Coyotes will long be remembered as the young men and their coaches who restored pride and confidence in the program.
"These are the guys who jump started our program," said second-year coach Anthony Armas. "I think what we were able to do this year despite our numbers … to get people excited again about the program, that's going to be their legacy."
Denair rarely had more than 14 or 15 players suit up for any game. Frequently, there were more coaches on the sideline than reserves. Because of injuries, the Coyotes even finished a 50-0 blowout over Le Grand with 12 players.
The fact that Denair was winning while facing teams with twice as many or more players was remarkable.
"I think some things didn't go the way we wanted, but the way we overcame the numbers, that was satisfying. Not only for the kids, but the coaches, too. I've never been part of that," said Armas.
The Coyotes finished the year 6-5. But that doesn't tell the whole story. The program had won only eight games in the past four seasons combined. Denair wasn't given much of a chance in the Southern League, but ended up tying for third place, shut out three league opponents and earned a playoff berth only it saw coming.
Armas said he sensed something magical might be happening when his players forced seven turnovers and beat Ripon Christian 32-0 on the road on Oct. 7.
"It was like, 'Holy Cow,' " he said. "Everybody got psyched."
Two weeks later, Denair handed Delhi its first loss with another shutout at home. Along the way, USA Today ran a feature on the Coyotes, dubbing them "the Mighty 14" for their tiny roster. A Sacramento TV station did a feature. Local fans began to take notice.
"That whole media thing, that was cool for the kids," said Armas when asked to recall the season's high points. "And then making the playoffs. Sitting there in the room waiting for our name to be called."
Denair was seeded eighth, meaning it drew No. 1 seed Amador on the road in the first round. As expected, the Buffaloes (10-1) dominated, building a 35-6 halftime lead and coasting to an easy victory Friday in Sutter Creek.
"Their offense was really good," said Armas. "They have a lot of team speed. I think what we could do on defense, we tried. They're just a good, all around team."
Denair's touchdowns came on an 8-yard run by Chase Pritt in the first quarter and a 15-yard pass from sophomore quarterback Drew Pritchard to Justin Steeley in the third period. Pritchard was subbing again for senior Kyle Prock, who hurt his knee Oct. 14 against Orestimba and couldn't return.
Steeley led the team with 17 touchdowns and was the Coyotes' emotional leader all year. He is among the group of seniors that includes Joe Brasil, Jarred Carbajal, Joe Ciccarelli, Brendan Curnow, Justin Gomes, Nicolas Hake, Omar Padilla, Zach Ramaley and Prock. Years from now, when they return for their high school reunions, those young men will be able to proudly point to this fall, when they reinvigorated the Denair football program.
"It's how they'll be remembered," praised Armas.
Looking ahead, next year might be a repeat of this one, as far as roster numbers go. Pritt will be one of just five juniors returning. Pritchard will be among seven or eight juniors expected to play. Armas said it's possible a handful of sophomores from this season's unbeaten JV team may be brought up to the varsity.
"We will be low in numbers again and we'll be young," he said. "I think the kids are excited. I think the coaches are, too. We will make playoffs? I don't know. We'll see. I think there's a new enthusiasm. We told our seniors (Friday), they may not see it now because they're too young, but I think it will translate."
Armas also wanted to thank the fans and the Denair community for the support. He said it meant a great deal to the team.
"As we got off the bus in Sutter Creek, we had a crowd walking with us," he said. "The last three or four away games, it didn't seem like away games. And our home crowd kept getting bigger and bigger. A bunch of our alumni came back. It really started to get that Denair feel again."