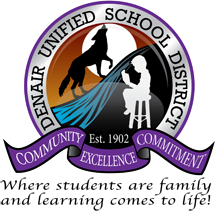 Submitted by Denair Unified School District
Trustees in the Denair Unified School District enthusiastically approved across-the-board 4% pay increases Thursday night, yet another sign the district's financial recovery plan is paying dividends.
The raises are retroactive to July 1 and will be reflected in employees' November paychecks. They add $534,113 to the cost of pay and benefits this budget year. It is money well spent, trustees say.
"If it's there, we want to give it back," said Trustee Robert Hodges of the money for the pay increases. The additional funds are the result of unexpectedly strong enrollment growth this year.
Denair was forced to slash salaries and staffing in 2013 when it faced a fiscal crisis due to declining enrollment and reduced state payments. Salaries for classified staff shrunk by 12%; pay for teachers and administrators was cut 8%. Some employees were laid off. The Stanislaus County Office of Education stepped in to provide temporary financial oversight.
Thursday's move comes a month after trustees granted one-time payments of 2.37% of the salaries of all teachers who were on staff in 2015-16. Classified staff received identical bonuses earlier this year. In addition, all employees received 1% raises in the spring.
"The hope is the restoration will be ongoing," said board President Sandi Dirkse.
Teachers in Denair can earn to $79,119 in addition to stipends for coaching or having a master's degree. Principals can make up to $96,915, depending upon experience. Classified managers can earn up to $76,138 while non-salaried employees are paid up to $23.99 per hour.
Trustees voted 4-0 for the salary increases, with Kathi Dunham-Filson absent, after an optimistic budget report from Chief Business Officer  Linda Covello that projects the district will be on sound fiscal footing for at least the next three years.
"It's the strongest financial position Denair Unified has been in in many years," said Superintendent Aaron Rosander.
Rosander joined the district in February 2014 and he hired Covello a few months later. They created a financial recovery plan that maximized the use of so-called "restricted" funds to pay for people, programs and equipment while reducing the burden on the general fund.
Reducing expenses and spending money wisely was critical, but salary restoration for teachers, classroom aides, secretaries, custodians and all others always has been dependent upon enrollment growth. The math is simple: More students means more revenue from the state – at roughly $8,000 per year per child in what is known as Average Daily Attendance, or ADA.
Denair's enrollment, which peaked at about 1,600 students in 2008, had been steadily eroding and bottomed out at 1,294 children in 2014-15. Covello reported Thursday night that there are 1,310 students are the four campuses today.
Under the sliding scale unveiled at the board's October meeting, 4% raises were automatically triggered by enrollment between 1,309 and 1,319. Future salary restoration is tied directly to attracting more students.
Much of the growth has occurred at Denair Elementary Charter Academy, which introduced a dual popular immersion English/Spanish program last year. It's offered at kindergarten and first grade now, and classes will be added each year through fifth grade.
"The great news is that we continue to build enrollment at the elementary level," Rosander said. "If we can push that to the secondary schools, we can truly sustain ADA growth. … The future is really bright for our district."