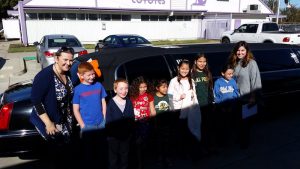 Submitted by Denair Elementary Charter Academy
How excited were a group of Denair Elementary Charter Academy students last month when they found out at a schoolwide assembly that they were going for a limousine ride to a special lunch with Principal Lucy Zamora?
"I felt like pinching my skin off to see if I was dreaming," gushed fifth-grader Jason Murray.
"My legs were shaking when I had to walk in front of everyone," admitted fourth-grader Andrea Padilla.
Wednesday – after three long weeks of anticipation – eight lucky students got their special ride. They first gathered for photos with Zamora outside the long, black stretch Lincoln. Then, one by one, they hopped into the luxury car, oohing and aahing at the built-in TV, refrigerator and other features.
"One of them said it felt, 'Just like heaven,' " said Brittany Hughes, Zamora's administrative assistance who accompanied the group on their short ride to McDonald's on Geer Road.
For most of the students, it was their first time in a limo. They earned the reward by exhibiting the character trait emphasized in October – respect. When a teacher or other staff member sees a student displaying, they give the children Coyote Cash, when can be redeemed for prizes at the school store.
To add additional incentive for good behavior, Zamora took the rewards program a step further. Every two months, she will randomly draw eight names for a limo lunch ride from among those students who have received Coyote Cash.
The other positive character traits that can earn rewards are responsibility, trustworthiness, citizenship, honesty and fairness.
Zamora said she and her staff already can tell the incentive system is working.
"We see that the visibility of the program has increased the number of students showing the correct behaviors," said the first-year principal. "They're excited about getting Coyote Cash. I think it's really neat. And what we'll get in return is huge."
With 564 students on the kindergarten through fifth-grade campus, the more students are dialed in to the appropriate behaviors, the more they'll get out of their classes.
Teachers, too, have an incentive for recognizing students. Two of them also are randomly selected at each month's assembly to receive Starbuck's cards.
Zamora also schedules monthly pizza lunches with a dozen or so well-behaved students to positively acknowledge those who are doing good work, following directions and acting appropriately.
"It makes a real difference in class," she said. "Plus, it's a fun way for me to get to know the kids a little better."
In addition to Jason and Andrea, the students who rode in the limo Wednesday were first-graders Brianna Sandoval, Angelie Araujo, Ari Herrera and Kane Harryman Dooley; fourth-grader Daniel Grimaldo; and fifth-grader Layevska Revuelta.