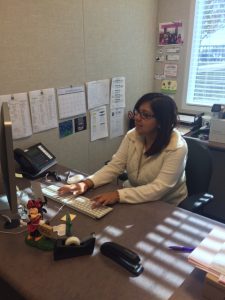 Submitted by Denair Middle School
Name: Rosa Zamudio
Family: My big family includes my parents, four sisters, three brothers, seven nephews and four nieces. We all live in Riverbank except for my older sister, who lives in L.A. with her three children.
School: Denair Middle School
Position: Bilingual school secretary
Experience/education: I have a BA in Education from Ashford University in San Diego. Before working for DUSD, I worked for a head start program for eight years as a secretary, social worker and data technician. I also worked as a library assistant for the Stanislaus County Library. I love books, so one of my future career goals is to become a full-time children's librarian.
What most inspires you about working at Denair Middle School? What inspires me the most about working at Denair Middle School is seeing students really trying their best to succeed in school. Some students really care about turning in their work and getting good grades and, to me, that is very inspiring.
What are your biggest challenges as a classified staff member? I have just recently become a classified staff member working for DUSD so I haven't really found any big challenges yet.
What is your favorite support tool or activity? Being patient works for me! I think that taking the time to learn something new or taking the time to help someone is a great way to become an efficient co-worker and great team player.
What do you want your students to remember? I want students to remember that with just a little effort, great things can happen. Doing their homework, behaving in class and just being a good person can help them succeed both personally and academically.
How can parents support what you do? Parents can support what I do by being accessible and being willing to work with office staff.
What will it take to improve academic success in DUSD schools? I believe that in order to improve academic success in DUSD schools, parents need to get more involved in their children's education. By participating in school activities and attending parent/teacher conferences, parents demonstrate to their children how important school truly is.
What's next in the office? The middle school office is a place where parents and students can receive the administrative support they need on a daily basis. The office staff is always willing to help both parents and students in any way they can.
What would surprise people about your job? My job is very rewarding. I feel a great satisfaction when I'm able to help parents, students and other staff members.
What do you do for fun? I love to read books, watch movies and just spend time with my family and friends.