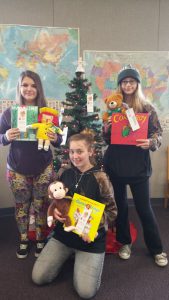 Submitted by Denair High School
The DHS Library Club is partnering with the Salvation Army and hosting an  Angel Tree this year.  You may come to the DHS Library and pick a tag from the tree.  The child's gender and age are listed on the tags. Buy age appropriate gift(s) and return the unwrapped gift and tag to the DHS Library.  Gifts will be distributed to families that have signed up under the Community Food Basket Program with the Salvation Army.
If you aren't able to come to the library to pick a tag, please buy your gift, and when it is returned, we can add the age appropriate tag.  Please return gifts by December 14th 3:30 p.m., to the DHS office.  If you have questions, please contact Ms. Schell at 632-9911 ext. 4259, W-F or 632-2510, ext. 3210-M & T.
The DHS Library Club thanks you for your kindness and support!