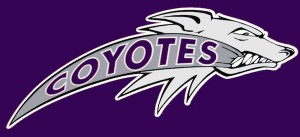 Submitted by Denair High School
Denair High School's sports teams have been a fixture in the Southern League for decades, but that athletic tradition would be lost and the Coyotes moved under a proposal being considered by the CIF Sac-Joaquin Section.
The plan would shift Denair from the Southern League to the Central California Athletic Alliance, which also would include Big Valley Christian (Modesto), Brookside Christian (Stockton), Millennium (Tracy), Sierra Ridge (San Andreas), Stone Ridge Christian (Merced), Turlock Christian and Venture Academy (Stockton).
Denair intends to fight the proposal, which would take effect in the 2018-19 school year. District Superintendent Aaron Rosander and Athletic Director Darrin Allen will attend the section realignment committee's meeting Thursday in Stockton to formally oppose the plan.
"This would make us the only public school in the league," Allen said. "The  CCAA schools rarely have JV football, so that would hurt us, too."
The section analysis suggests Denair should be moved because of its size and lack of competitiveness in the Southern League.
The CCAA is a Division VII conference, made up of many of the smallest schools in the section. Denair High has about 275 students; the rest of the proposed CCAA ranges from 100 (Sierra Ridge) to 931 (Venture Academy).
Division VII would include four other leagues in addition to the CCAA: the Central Valley California League, Mountain Valley League, Northern Pacific Athletic Conference and Sacramento Metropolitan Athletic League.
The Southern League would remain a Division VI league. Its proposed members are Delhi, Gustine, Le Grand, Mariposa, Ripon Christian (except for basketball), Riverbank and Waterford. Only Riverbank is not currently a member. Orestimba, now in the SL, is proposed to be shifted to the larger Trans-Valley League.
The proposed reorganization is part of a larger review of the 27 leagues across seven divisions from Merced to Sacramento overseen by the Sac-Joaquin Section.