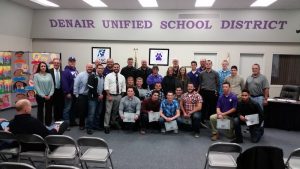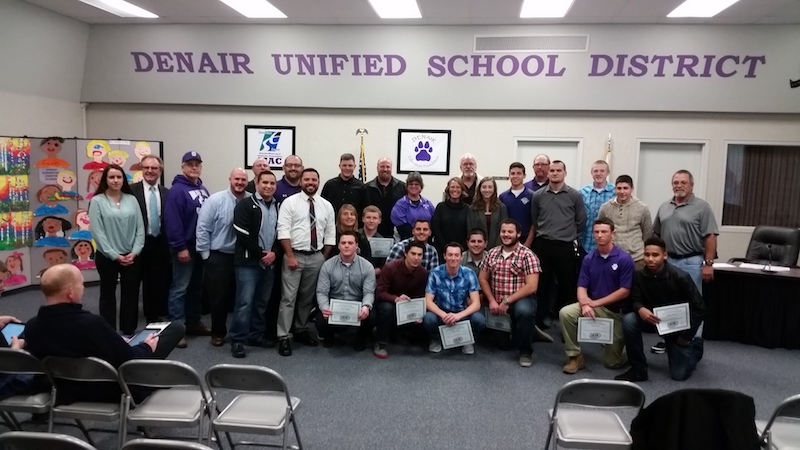 Submitted by Denair High School
A passionate plea from Superintendent Aaron Rosander, the unanimous support of its league peers and an assist from Riverbank was enough Thursday to convince a Sac-Joaquin Section realignment committee to keep Denair High School's sports teams in the Southern League.
The unanimous decision — while not final – is likely to have major influence on the Section's Board of Governors, who will make the ultimate choice later this spring. It also marks a reversal from the committee's recommendation last month to shift Denair from its longtime home in the Southern League to the much smaller Central California Athletic Alliance.
Denair High Principal Kara Backman, Athletic Director Darrin Allen and school Trustee Ray Prock Jr. joined Rosander at the Section meeting Thursday in Stockton.
Rosander read an emotional letter to the realignment committee retracing the perilous financial path the Denair Unified School District has been on the past five years. He told committee members that the district was nearly taken over by the state because its budget was so far out of balance. Its financial condition negatively affected enrollment, he said, especially at the high school level, which had a predictable domino effect on the competitiveness of almost all its sports teams.
"It was a dark time," he admitted.
Fortunately, those days are well behind the district now.
"The district has repositioned and rebranded itself within its region, and a budget that was once insolvent is now healthy, with assets, and growing," Rosander said. "Enrollment that hit a low of 1,249 students a short time ago is now well over 1,300 and climbing.
"Families and students that left the school district are now returning, and athletes who were once considering leaving the district after their eighth-grade school year are now beginning to stay in large numbers. … This year's freshman class exceeded enrollment projections by some 30 students, representing a 10% growth at Denair High School."
The rest of the Southern League members — Delhi, Gustine, Le Grand, Mariposa, Orestimba, Ripon Christian (except for basketball) and Waterford – echoed Rosander's plea to keep the league intact. And Riverbank, which had been proposed to replace Denair, backed away and told the committee it prefers to remain part of the Trans-Valley League.
All the persuasion paid off. The committee voted 9-0 to abandon its proposal and leave Denair in the SL.
"They didn't understand what it means to be in a small community. Mr. Rosander explained that very well," Prock said of the Section commissioners. "I was proud to be from Denair today. If there's one thing the world is learning, they'll never hear the words, 'We give up,' in Denair. It's good to see others respecting that."
Backman said she will be working closely with Allen and football coach Anthony Armas on a plan to increase the number of student athletes across all boys and girls sports at Denair High. More than mere numbers, though, the Coyotes will be under pressure to improve their results across the board.
"We'll be under a tight microscope the next four years," said Backman, referring to the next realignment cycle. "We need to become more competitive or they'll move us down."
A major step in the right direction was the performance of the football team last fall. Despite having just 15 players, Armas and his undermanned and gritty group finished third in the Southern League and made the Division VI playoffs. They finished with a 6-5 record but, more importantly, restored pride and confidence to a downtrodden program.
That important legacy was acknowledged Thursday when school trustees presented certificates of achievement to all the players and coaches.
"None of you realize how big this is, it might take 10 or 15 years, what you did for the community of Denair. No one can take that away from you," Prock told the players.
Added Trustee John Plett: "You guys were good ambassadors for the community. It gave me great pride. I knew when I went to your games I would see sportsmanship and pride."
The Section 27 leagues across seven divisions from Merced to Sacramento overseen by the Sac-Joaquin Section. Every four years, it tries to rebalance leagues based on enrollment gains or losses as well as competitiveness. Whatever changes are decided upon this year will take effect in the 2018-19 school year.
For now, Denair has dodged a major bullet.
"I was proud to speak on behalf of the district," Rosander said. "We were able to showcase the district and a high school that really is a success story in the making."