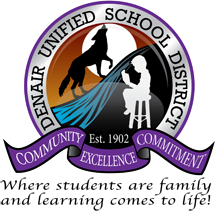 Submitted by Denair Unified School District
Students at Denair High School will again have a chance to participate on a Hispanic Youth Leadership Council after the club unanimously was approved Thursday night by school district trustees.
There are HYLC groups at more than 25 high schools in Stanislaus County, trustees were told during a presentation by organizer Luis Jimenez. He is the senior outreach executive for the Boy Scouts of America is this region, which shares oversight of the HYLC clubs with the Hispanic Leadership Council.
Denair High once had an HYLC chapter, but interest waned and it was folded. Now, said Spanish teacher Sandra Cisneros, there are plenty of new students. Freshman Christian Obando already has been chosen as president. Cisneros will be the on-campus advisor.
HYLC groups are open to all students, regardless of ethnicity. The goals are to foster leadership, community involvement, higher education and cultural awareness among students, Jimenez said. He said HYLC members in Stanislaus County already have contributed more than 18,000 volunteer hours this school year.
The organization's motto is "Nunca Te Rindas" … "Never Give Up." There are monthly meetings, social activities, career awareness and college information, speech contests, and community service projects at parks, animal shelter, Earth Day and other events.
In other action, trustees:
Agreed to re-open negotiations on salaries, sick leave and stipends with the Denair Unified Teachers Association for a contract that would run from July 1, 2017 through June 30, 2019.
Approved the attendance of 11 Denair High students at the FFA Leadership Conference Jan. 20-21 in Monterey. Ag teacher Matthew Marshall said the conference focuses on FFA leadership and showing animals, classroom participation and access to ag classes, and student projects.
Reviewed a proposal for two $75,000 block grants – one each at Denair High School and Denair Charter Academy — to improve college readiness among students. The program could include increased preparation for Advanced Placement testing and assistance to help teens take better notes and foster more efficient study habits, among other ideas.