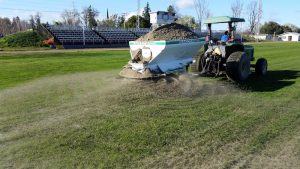 Submitted by Denair Unified School District
For the past couple of seasons, the gophers making the football field their home outnumbered the players on the Denair sideline. And it wasn't even close.
Concerns about sunken gopher holes and their potential danger to players often forced Denair High athletic director Darrin Allen and a handful of volunteers to scurry around with buckets of sand before referees would start the game.
More than once, people on the sidelines and in the stands spotted rodents during games. "They were brazen little suckers," said school board Trustee Ray Prock Jr.
Since the first of the year, more than 50 gophers have been trapped and exterminated on the football field. And Monday, a Livingston company that has provided turf and field maintenance for the Giants, 49ers and most other professional and college stadiums on the West Coast arrived to work on the surface at Jack Lytton Stadium.
Very soon, it will be a little easier for Allen, Prock and Denair's athletes to laugh about those gopher stories.
"Knowing the problem has been recognized and we are finally moving forward with a solution is enough for me," said Allen, who has more than three decades of experience on the field, going back to his days as a Denair athlete.
Facilities director Brian Holloway realized not long after arriving last year that there was a gopher problem at the football field. A pest control company tried to use bait to kill the rodents, but Holloway said it was ineffective. It wasn't until the football and soccer seasons were completed that a more aggressive eradication program could be coupled with field restoration.
"There are only a few active gophers left," said Holloway, promising their days are numbered, too.
Gopher tunnels often are only a foot or two below the surface. One of the benefits of a rainy winter has been to soften the ground and collapse the tunnels. Holloway, his staff and even some Denair High athletes have made patchwork progress filling in the holes. Between storms last week, the football field also was aerated.
All of that was a prelude to Monday, when the experts from West Coast Turf showed up.
Five dump trucks delivered about 125 tons of specially formulated sand, which was spread a quarter-inch deep across the turf. Small tractors loaded with a mixture of Kentucky blue grass and rye seed then worked their way from one end of the field to the other. Fertilizer was applied, followed by another quarter-inch of sand. The final step was to drag the field, helping to fill in the low spots to make for a more uniform surface.
Greg Dunn of West Coast Turf has worked with the San Francisco 49ers for 33 years, from their time at Candlestick Park through the move three years ago to Levi's Stadium. Last week, he was at AT&T Park, supervising the installation of new sod for the San Francisco Giants. When it comes to grass, there isn't much that surprises him. On a scale of 1-10, he rated Denair's situation a "5."
"I've seen a lot worse," he said. "I was pleasantly surprised at how much good turf they had, especially for this time of year. I've seen fields that were almost bare in the middle because of all the usage."
This week's project will cost the district about $8,600, Holloway said. He plans to keep everyone off the field until April, allowing the new grass to take hold. It will be ready for the second half of track season and "it's going to look great for graduation," he promised.
To prevent a return of the gopher invasion, Dunn suggested creating nesting areas for owls around the stadium. He said a mature owl can eat as many as five gophers in a day. Holloway has approached the woodshop students at Denair Charter Academy about building the owl houses.
In the meantime, Holloway and his crew also are focused on improving the varsity baseball and softball diamonds just to the west of the football field. The wet weather has delayed them, but gophers have been trapped there, holes filled and weeds pulled. New dirt for the infields is on the way. Players, coaches and even parents are chipping in to help.
Varsity football and baseball coach Anthony Armas has seen the worst of the rodent problem up close. He said he jokingly told his football assistants last fall that he worried about turning into the gopher-crazed greens keeper portrayed by Bill Murray in the movie "Caddyshack."
"That being said, I am really excited with what I have heard so far about the improvements that are going to be made to bring the field up to par," Armas said. And even though Tuesday's varsity baseball game was scheduled to be played on the JV field, Armas is optimistic that long-term improvements are here to stay.
"With the current plans for the football and baseball fields, I think we are back on track to eventually having some of the best facilities in the league once again," he said. "I feel that the improvement to the playing fields is another large step in the right direction of creating something special here at Denair High School."