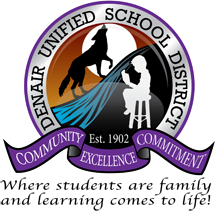 Submitted by Denair Unified School District
An emotional meeting of the Denair Unified School District board that lasted well past midnight ended with the announcement that four certificated employees will not return for the 2017-18 school year.
Two of the employees submitted resignations that were accepted. Two others still on probation were told their contracts would not be renewed. Certificated employees can be teachers or administrators.
Under the California Education Code and union agreement, teachers with less than two years' experience in a district must be notified by March 15 each year whether they will be released.
With that in mind, more than 100 students, parents, teachers and community members gathered beginning at 6 p.m. Thursday in the board meeting room. Over the next 90 minutes, the five DUSD trustees listened to expressions of support for individual teachers.
Because personnel issues were involved, trustees and district officials could not respond.
The board took a short break at 7:45 p.m., then returned and heard from a few more audience members. Then, trustees spent the next 2½ hours dealing with their regular agenda, including accepting a financial report that shows the district continues to improve its position thanks to enrollment growth.
About 10:12 p.m., the board went into closed session. Trustees emerged about 12:07 a.m. and announced the personnel decisions to the 30 or so people who had waited.
The vote was 4-1, according to board President Kathi Dunham-Filson. She joined Trustees Ray Prock Jr., John Plett and Sandi Dirkse to support the motion related to the four certificated employees. Trustee Robert Hodges voted against it.
Denair has about 70 teachers and eight administrators in the district.
Earlier in the evening, board members listened as Chief Business Officer Linda Covello presented a mostly optimistic budget update. She said Average Daily Attendance – upon which state funding for schools is based – is at 1,267 this year. That's an increase of 24 from 2016-17, mostly due to gains at Denair Elementary Charter Academy that have offset slower-than-projected declines at Denair High School.
Covello said the district is on track to spent $14,078,235 this year school, about $109,000 more than current-year revenue.
The difference, she explained, is made up by the district's use of so-called "one-time state revenue" it has saved over the past few years to fund specific projects on its four campuses.
This school year, one-time revenues have been spent on upgrading one computer lab, a 2.37% off-the-salary-schedule payment to 15-16 certificated employees, professional development, technology, and curriculum in English language development, math, Spanish and the dual immersion program at DECA.
"We are not deficit spending when you look at ongoing revenue compared with ongoing expenses," Covello said.
Superintendent Aaron Rosander said one-time dollars have become Gov. Jerry Brown's preferred method to fund education without making long-term commitments. "We'll have to wait for him to retire to see if his replacement changes that paradigm," Rosander said.
Covello said the district expects to end the budget year in June with $3.52 million in unrestricted funds and about $750,000 in restricted money.
She also reminded trustees that pension contributions to the Public Employees Retirement System and the State Teachers Retirement System – known as PERS and STRS – continue to carve out a bigger slice of the district's budget. Her projections show pension contributions rising by $126,000 in 2017-18 and $139,000 in 2018-19 over current levels.
Covello said the district must "remain vigilant" and "keep a watchful eye" on spending.