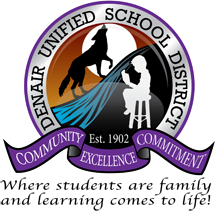 Submitted by Denair Unified School District
Kelly Beard, who began this school year as the first-time principal at Denair Middle School, will finish out the year as principal at Denair Elementary Charter Academy.
Beard spent 13 years as a first-grade teacher on the elementary campus before moving into an administrative role last summer. She replaces Lucy Zamora, who resigned to care for a family member facing a health crisis.
Beard's appointment is permanent, Denair Unified Superintendent Aaron Rosander said Friday afternoon after a joint meeting with the staffs from the elementary and middle schools.
"We wish Ms. Zamora the very best as she navigates the challenges ahead," Rosander said.
Brian LaFountain, the principal at Denair Charter Academy, will temporarily fill Beard's position at the middle school for the final month of classes. Recruitment to hire a full-time principal already has begun, Rosander said. He hopes to have a new leader hired by early June.
"DMS is sure to be in good administrative hands for the remainder of the school year," Rosander said. "Mr. LaFountain will return to DCA for the 2017/18 school year."
Beard takes over a DECA campus that, along with the independent study program at DCA, has fueled the district's enrollment growth the past two years. Part of the appeal to parents at DECA has been the addition of a dual immersion language program in which students are taught in English and Spanish. Each year, another grade level is added. The first students will be in second grade next fall.
The charter school also features traditional classes for kindergartners through fifth-graders. All students are introduced to the concepts promoted by the No Excuses University program, which aims to instill a college-going culture in youngsters.
"Kelly is well-liked and respected, and definitely will be welcomed back," Rosander said. "All the programs that have been added the past few years will remain."