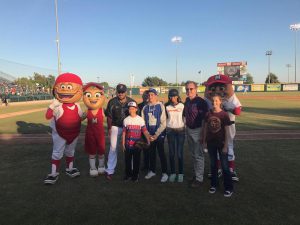 Submitted by Denair Charter Academy
It was Denair Night on Friday at the Modesto Nuts baseball game and about 100 hearty Denair residents and students braved a cold, windy night to support their community.
Denair Unified Superintendent Aaron Rosander threw out the honorary first pitch — a strike to home plate — as the crowd cheered.
The event was the brainchild of Brian LaFountain, the principal at Denair Charter Academy and, for the next month, at Denair Middle School. Special tickets were sold for $7. The money raised will help offset a portion of the cost of the first-ever DCA graduation trip May 18-19 at Magic Mountain.