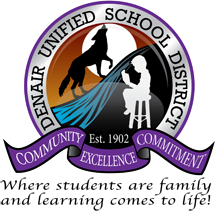 Submitted by Denair Unified School District
Thursday is Open House night across the Denair Unified School District — a chance for parents and community members to discover first-hand all the educational achievement occurring in Denair classrooms.
Here is the schedule:
– Denair Elementary Charter Academy: 5 to 7:30 p.m. The event begins with a book fair, where parents can buy books for their sons and daughters. The Open House begins at 6 p.m.
– Denair Middle School: 5:30 to 6:30 p.m. Teachers will be on hand to talk about what's going on in their classrooms.
– Denair High School: 6 to 9 p.m. Open House will be the first hour, followed by the annual awards ceremony starting at 7 p.m. in the Coyote Center. Dozens of students will be recognized for their academic performance and earning scholarships.
– Denair Charter Academy: 6 to 7 p.m. Open House for the independent study program.