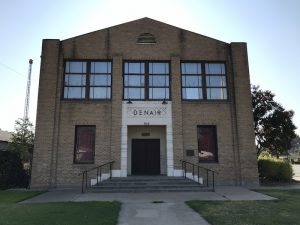 Submitted by Denair Gaslight Community Conservatory
The Denair Gaslight Theater is pleased to present their 2017 Summer/Fall season lineup! The summer starts with a sizzling hot youth performance which takes the classic fairytale, little red riding hood, and gives it a modern twist. "The show will highlight 16 of our local youth which will be participating in everything from set design, tech, and stage acting," according to director Josh Morriston. This show is sure to be a "wild ride" not only for the youth, but for all that come to see the performance. Tickets are $8.00 for students and seniors, and $10.00 for general admission. Tickets can be purchased online at www.showtix4u.com or by calling (209) 664-9514.
The fall will kick off with the comedy classic The Importance of Being Earnest. The show reveals to everyone the importance of being honest and truthful, and what calamities might be bestowed upon you if you are not. Moving into the Halloween season, the Gaslight Theater will once again provide you with spooks and thrills, with their production of Dracula of Transylvania. The second annual Denair Community Tree Lighting will take place in front of the historical Gaslight Theater. To round out the 2017 season, the holiday movie tradition of A Christmas Story will come to life on the Denair stage.
"The Denair Gaslight Theater Board is very excited to present such an array of shows and activities for our community", Erica Prock President of the Gaslight Theater Board Stated. For more information about dates, times, and auditions please refer to the listing below or call Denair Gaslight Theater at (209) 664-9514. All auditions and performances will be at 3908 Gratton Rd. Denair, CA. 95316.
Little Red and the Riding Hoods YOUTH SHOW– Performances: July 28-29, 7:00 pm, July 30, 2:00 pm and Aug. 4-5, 7:00 pm
The Importance of Being Earnest Auditions July 23, 2:00 pm and July 24, 6:30 pm, all adult cast
Performances: Sept. 8-9, 7:00 pm, Sept. 10, 2:00 pm and Sept. 15-16 at 7:00 pm
Dracula of Transylvania Auditions Sept. 11 and 12, 6:30 pm, all adult cast
Performances: Oct. 20-21, 7:00 pm, Dec. 22, 2:00 pm and  Oct. 27-28, 7:00 pm
Denair Community Tree Lighting November/December – date to be announced
A Christmas Story Auditions Oct. 23 and  24, 6:30 pm, mixed cast youth and adults
Performances: Dec. 8-9, 7:00 pm, Dec. 10, 2:00 pm and Dec. 15-16, 7:00 pm