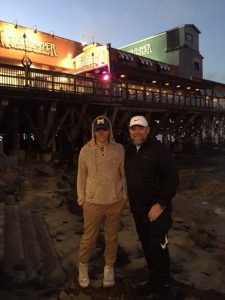 Submitted by Denair High School
A student at Denair High School set aside traditional sports rivalries to provide support for Mariposa County residents affected this summer by the massive Detwiler Fire.
Drew Pritchard, a junior at DHS, was in Monterey with his father in late July as the fire was raging in the rugged terrain just north of the town of Mariposa. Hundreds of people were temporarily evacuated from their homes as firefighters from all over the state battled the flames.
Drew thought of the athletes he had competed against in football, basketball and golf. He told his parents, "We should do something for them," according to a story published Aug. 3 in the Mariposa Gazette.
Kathy and Dale Pritchard, Drew's parents, encouraged their son. They spent a few hundred dollars buying groceries to donate to Mariposa families. When others in Denair found out, they also chipped in. The Pritchards' doctor donated some medical supplies, Save Mart provided bottled water and Raley's chipped in cookies.
On July 27, Drew and his father drove to Mariposa High School, accompanied by Denair student Steffin Winston, one of Drew's basketball teammates. At the school, they gave the supplies to members of the Mariposa basketball team to distribute to the community.
"We play them every single year," Drew told the newspaper, "and it's just hard when you know they're not getting what they want" because of the fire.
Drew and Steffin both said they had seen TV reports of the Detwiler Fire, which burned more than 81,000 acres and destroyed 63 homes and one business before it was contained.
"It's probably hard for them," Drew said. "I wouldn't want to be in that situation."
The relief effort was much appreciated by the people in Mariposa.
"It's about relationships and the relationships we've developed in the Southern League," said Trace DeSandres, Mariposa's athletic director. "To me, this is why we do this. It teaches them there are more things than just the competitive part."
Drew's parents said they couldn't be more proud of their son and others in the Denair community who rallied for a worthy cause.
"I thought it was pretty cool," said Kathy.
Also impressed is Drew's high school principal, Kara Backman.
"Drew is a thoughtful, hard-working and polite young man," she said. "He has the internal drive of a student athlete and is always there to lend a hand to a fellow peer.  He bleeds purple and we are proud to call him a Coyote!  I am so proud of him."