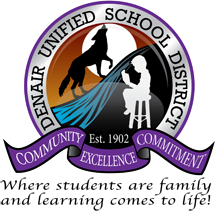 Submitted by Denair Unified School District
An independent auditor praised the Denair Unified School District for the accuracy of its financial projections Thursday night while cautioning trustees to pay close attention to future spending.
In particular, Debbie Fry of School Services of California advised school board members to avoid making long-term financial commitments without a corresponding revenue stream to pay for them. Those dollars from the state, she explained, are directly tied to enrollment – which has been flat or declining in Denair. Enrollment is projected at about 1,300 students this year, down from nearly 1,600 10 years ago.
The district's $16.2 million budget for 2017-18 includes about $1 million in so-called "one-time money" collected and saved over the past three years, said Linda Covello, chief business officer. The additional money has been Gov. Jerry Brown's preferred method of funding schools beyond what is legally required.
Denair will use that money to add modular buildings on the fast-growing Denair Elementary Charter Academy campus, buy new textbooks at all four campuses, and pay for computers and other technology to better prepare those students.
Saving the extra state dollars to spend on specific projects is a key part of the district's strategy to attract more students, Covello said. By law, the one-time funds cannot be spent on ongoing expenses such as employee salaries.
"The top priority for the district has been to increase enrollment … to generate additional ongoing revenue and be able to increase ongoing expenses (salaries and benefits) in a way that is sustainable," she explained. "So over this year and the next, the district plans to spend down all of the one-time moneys sitting in the ending fund balance on one-time expenses that can improve and/or increase programs."
Added Superintendent Aaron Rosander: "This is all planned. The one-time money is going to disappear as we invest in technology, infrastructure and other programs."
Fry, a school finance expert based in Sacramento, said it is vital that one-time money be used as Denair is intending.
"Never spend one-time money on things that eat because you won't be able to feed them next year," she said.
Most of Fry's review, conducted last spring, was of previous budgets, though she did analyze this year's spending plan.
"Our main focus was on the unrestricted side of the general fund as an indicator of fiscal solvency and the availability of discretionary resources," she said.
Because of the complex nature of school funding, which often lags any attendance gains, Fry encouraged trustees to do what they can to increase their year-end balance – essentially, the district's savings account. The state requires all districts to have at least 3% in reserve, but Fry believes that number should be higher.
She acknowledged that saving more – without adding students – is difficult to achieve. It is exacerbated by double-digit increases in the amount all districts must contribute to state retirement funds for teachers, administrators and classified staff. This school year, the district will contribute $107,500 more toward pensions than in 2016-17.
"It is very challenging for districts in a declining or flat enrollment situation to ratchet down expenditures," Fry said.
She said Denair's situation is not unique. Many California districts have flat or declining enrollment, in part because birth rates in the state are at their lowest level since the Great Depression 80 years ago.
"You're not alone here in Denair in facing some budget difficulties," Fry said. "… It doesn't do anyone any good to run out of money. You want to be there for your employees in the future."
Fry's independent audit was requested by the district in response to concerns by teachers that their salaries – which were reduced by 8% in 2013 when the district faced a financial crisis – have not been fully restored. In the past year, trustees have approved pay raises of about 5%. Additional increases are directly tied to specific enrollment milestones.
In other action, trustees:
Held a candidate forum for those interested in running for two open board seats in the Nov. 7 election. Trustees Sandi Dirkse and Robert Hodges will not seek re-election. As of Thursday, three potential candidates have pulled papers at the county elections office: Charlie Asbill, a retired custodian at Denair Middle School; Tina Gresio, self-employed businesswoman; and Crystal Sousa, educator and parent. The deadline to sign up is Aug. 16.
Approved two Provisional Internship Permits for 2016-17. These are for new instructors still working toward their teaching credential. "You are seeing PIPs in record numbers across the state. There is a dramatic and severe and dire teacher shortage," Rosander said.