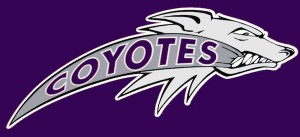 Submitted by Denair High School
Ten juniors, seven sophomores and just five seniors. That's the makeup of the 2017 Denair High football team. And if you factor in the differences in physical maturity between those players – as well as the relative lack of experience – Friday night's 48-2 season-opening loss to Summerville isn't nearly as surprising as the final score might indicate.
Any thoughts that the momentum of last fall's overachieving playoff team would carry over to this year were erased by halftime, when the Coyotes trailed 35-0.
"We started very slow," assessed Denair coach Anthony Armas. "We didn't adjust to their size and speed. … They definitely were the better team."
Armas and his staff have two weeks to address the myriad problems he saw from the sideline Friday night and again when watching film over the weekend. Denair has a bye this week and next plays a week from Saturday at Millennium of Tracy.
"We've got a lot to work on. We did a lot of stuff wrong," Armas said. "We misaligned a lot on defense. Assignment wise, we didn't do what we needed to. … By the second half, a lot of kids were trying to freelance, especially on defense. We need to have them understand what we're trying to do and understand the schemes."
Understanding, Armas expects, will come with additional practice. But he also realizes there is no substitute for experience. With the Coyotes' limited number of players and restrictions on live contact at practice, it's difficult to replicate varsity game speed in middle of the week.
"I think it was a lot of youth, but at the same time, that's the hand we've been dealt," Armas said. "We're not going to make any excuses."
Amid the disappointment, Denair did do some things right.
"I thought Hunter Musgrave ran the ball very hard. If anyone stood out, it was him," praised Armas.
Musgrave, a junior, was Denair's leading rusher and also one of its leading tacklers from his cornerback spot on defense. He didn't leave the field until late in the game.
The Coyotes' only points came on a safety in the third quarter when a Summerville player muffed a punt, then fell on the ball in his own end zone.
Despite being "physically manhandled," Armas believes his players emerged with no major injuries – just the normal assortment of bumps and bruises.
He expects that four practices this week and four more next week before their second game will be enough to correct some of the fundamental problems that doomed them against Summerville. With a heat wave in the forecast, Armas said "we'll be smart about it" and make sure there is plenty of water on hand.
Junior varsity game: Denair lost 22-6
This week: Bye. Denair (0-1) will be at Millennium of Tracy on Saturday, Sept. 9. Kickoff is at 7:30 p.m.