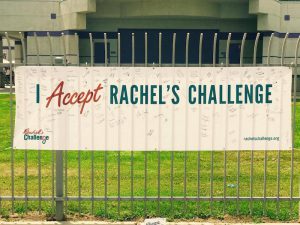 Submitted by Denair Unified School District
"Only kindness matters."
At its heart, that is the message delivered powerfully, emotionally and respectfully Tuesday to Denair students, their teachers and parents during a series of presentations known as Rachel's Challenge.
The nationwide program is a tribute to Rachel Scott, the first student killed on April 20, 1999, in the mass shooting at Columbine High School in Denver. Before she died, Rachel was a champion on her campus for forgiveness, love and compassion, often defending classmates who were bullied, taunted or teased by other students.
Though rooted in tragedy, Rachel's Challenge has become a force for teaching children and adults. Since it was started by her family, the program has reached more than 23 million people.
Tuesday, more than 500 middle and high school students listened intently to the 45-minute presentation in two sessions at school. Later that night, about 60 parents and community members also participated.
Superintendent Aaron Rosander first saw Rachel's Challenge a few years ago when he was superintendent in Mariposa County. He worked more than a year to bring it to Denair.
"I felt it was important for kids to understand civility and kindness and compassion never go out of style," he said, adding that he knows that "we have some kids who suffer silently."
Rachel believed the definition of compassion was "forgiving and loving," presenter David Hills explained. Though only a teenager, she wrote with maturity and clarity about her five-step approach to life:
Look for the best in others; eliminate prejudice.
Dream big
Choose positive influences
Speak with kindness
Start your own chain reaction of kindness
The presentation incorporates things Rachel wrote in her diary with music and video clips of her family, friends and those she defended talking about what her actions meant to them. The message had a powerful impact on the Denair students and faculty, many of whom were moved to tears.
"The kids are feeling it," said middle school Principal Brian LaFountain during the presentation. "You can tell looking at their eyes."
Twelve students and a teacher died that terrible day at Columbine. Another 27 people were wounded in what was, at the time, the deadliest school shooting in U.S. history. Rachel's younger brother, Craig, was one of dozens of students cornered in the library when the shooters came into the room. Though he survived, two of his friends were killed.
The attack was carried out by two students who later took their own lives.
In the weeks before her death, Rachel wrote about her sense that she would "die young." She wasn't suicidal, Hills explained, but had a strong sense that she was brought into this world to serve a higher purpose.
Hills said Rachel was influenced by Anne Frank, the young Jewish girl whose diary inspired millions before she died in a German concentration camp during World War II, as well Dr. Martin Luther King, the assassinated civil rights leader whose work in the 1960s transformed the country.
That the attack occurred on April 20 was not a coincidence. It was Hitler's birthday, and the Columbine shooters were inspired by his evil message of hate and intolerance.
"Both Anne Frank and Rachel were killed because of the influence of Hitler," Hills told students.
At the end of the presentation, Hills encouraged students to tell those closest to them that they love them. He also invited students to sign up for a Friends of Rachel Club to continue her message on their campuses; more than 125 did. On the high school campus, students also could sign a Rachel's Challenge banner to indicate their support for her ideals.
LaFountain and high school Principal Kara Backman expect that elements of Rachel's Challenge will be incorporated into lessons in many of their classes during the rest of the school year.
"Today is a character development day," LaFountain said. "It's the type of thing that makes the next 165 days of teaching a lot easier."
Rosander already is making plans to continue the chain reaction of kindness exemplified by the Rachel's Challenge message. Later this fall, he intends to host another presentation for those in the community who couldn't make Tuesday night's meeting.
"I think students and their parents need to hear this," he said. "Everyone has so much access to information 24 hours a day. With Facebook, Twitter and social media, kids are flooded with a lot of negativity. I feel strongly that this is a positive message that needs to be shared."